The Royal Family Came Out To See Harry Play Polo And The Pics Are EVERYTHING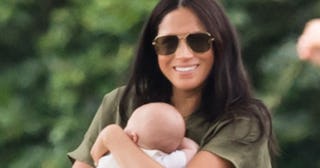 Samir Hussein/Getty
We love a good Royal Family outing
While Prince Harry is likely pretty dang busy now that he's a happy new dad, there's one thing he'll always have time for: A charity polo match. And at his recent match, he had all the support a dad could ask for, because basically half the Royal Family turned out to cheer him on from the sidelines. The photos from the day feature royal kids who don't make a lot of public appearances, and they are so cute we could burst.
Meghan Markle made a surprise appearance, and of course baby Archie was with her. Meghan is still technically on maternity leave, so seeing her out and about and cuddling the newest potential successor to the throne is a rare treat for sure and we are here. For. It.
That smile! Hello, Meghan is the cutest, most glowing new mom on the planet, change my mind.
While Harry spent most of his time on the polo field, he did sneak away for a few minutes to hang out with his wife and son, and the looks on his face/the way he still eschews royal PDA policies to be in physical contact with Meghan at all times has our hearts melting all over the floor.
But Meghan and Archie weren't the only ones in Harry's cheering section. When we said basically half the Royal Family was there, we meant it. Duchess of Cambridge Kate Middleton was also there to root for her brother-in-law.
And she also brought her kiddos! Will and Kate's kids are often kept out of the spotlight — the future king has been pretty outspoken about wanting them to have as normal an upbringing as possible — so seeing them in photos like this basically never happens. It's understandable, but you can't blame us for wanting to see as much of these cuties as possible. Just look at little Louis' chubby baby cheeks.
Also, how is he even that big? Wasn't he born, like, last Tuesday? Oh how time flies.
Louis' big brother and Archie's cousin Prince George was also there, but TBH didn't seem all that interested in the polo match.
We're sure he'll grow into it, since his dad and uncle are both champion players.
While we will never, and I mean never feel like we're getting enough Royal Family photos, this has been a particularly great week for getting glimpses of royal babies. Just a few days ago, Archie was christened, and the family photos marking the event were simply stunning.
We hope Meghan is enjoying the hell out of maternity leave, but we can't wait until our favorite Duchess is back in action and (hopefully) bringing Archie along for the photo ops.