Royal Wedding Fever Has Hit London In A Big Way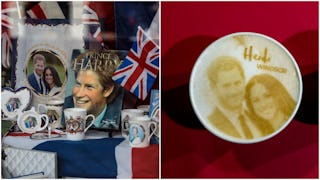 Image via Jack Taylor/Getty/Steve Parsons/Getty
Meghan Markle and Prince Harry are getting married this weekend, and people are freaking
When a British prince marries his future princess, people tend to freak out. When literally the most charming, dashing, cheeky British prince marries an equally charming, dashing, cheeky American actress, the world pretty much explodes. Royal wedding fever has hit London hard, and we're just coming along for this (pretty weird) ride.
But first, the basics. American actress Meghan Markle is marrying Prince Harry on May 19th at St. George's Chapel in Windsor, England. Actual details about the wedding itself are being kept pretty secret, but we do have this beautiful engagement photo to tide us over. Just look at these two. This picture causes the perfect amount of both very intense jealousy and giddy happiness.
People are celebrating the special occasion in London hardcore. Like, things are getting pretty weird, but in a really, really good way.
For instance, Meghan/Harry-themed condoms are being sold and, according to the packaging, they're "fit for a prince." Also, when you open the box it plays both US and British national anthems, so you can feel patriotic and sensual. And safe! Win-win-win.
Houses across the country are being decorated in celebration of the royal wedding. I'm talking cardboard cutout-level celebration.
Speaking of decorations…hullllo merch galore.
Wax figures of the royal couple have sprung up in Windsor, and you better believe that people are taking many, many selfies. Side note: Harry's wax figure is impressively realistic looking.
Also, people's hat and outfit game is completely on point. None of these fans are afraid of making a statement, and we're forever grateful for that.
Yes, you can buy bottles of marmite (aka yeast extract) that have Harry and Meghan's names on it. It will be disgusting but probably worth it.
Street graffiti has literally never looked so romantic.
Neither has a cup of joe.
And, damnit, why shouldn't you get in a carriage and ride around in your own wedding dress?
Face masks might ordinarily be creepy, but all rules go out the window when it comes to the royal wedding.
If you're not currently in England living your best life right now, never fear. You can celebrate by watching the wedding from the comfort of your couch or — even better — stream every single one of Meghan Markle's Lifetime movies. They're so bad but so, so worth it.