Ruby Rose Alleges Toxic Behavior, Gruesome Injuries On 'Batwoman' Set
by Madison Vanderberg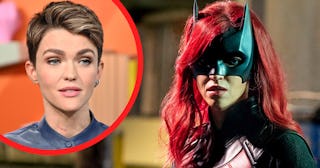 Slaven Vlasic/Getty and The CW
Ruby Rose opens up about the allegedly dangerous and toxic working conditions on the set of Batwoman
Last year, actor Ruby Rose surprised everyone when she announced her abrupt departure from The CW's Batwoman show and now in a series of social media posts, has revealed that they left because the Batwoman set was allegedly a toxic and unsafe set environment that paralyzed one Production Assistant and left Rose with injuries including a broken neck, broken rib, and a tumor.
"Enough is enough," Rose wrote on Instagram, which was addressed to the CW, Batwoman showrunner Caroline Dries, and Greg Berlanti and Sarah Schechter of the show's production company Berlanti Productions. "I'm going to tell the whole world what really happened on that set…I will come for you so what happened to me never happens to another person again. And so I can finally take back my life and the truth. Shame on you."
Rose shared videos from doctors' visits for injuries to her ribs and neck and even shared a (trigger warning) graphic video from a neck surgery in 2019.
Rose said they needed several weeks to heal after the neck surgery but alleges they had to go back to work after 10 days because Warner Bros. executive Peter Roth reportedly told her that if she didn't, "the whole crew and cast would be fired and I'd let everyone down because Peter Roth said he would recast and I just lost the studio millions (by getting injured on his set)."
Rose says they weren't the only one who faced serious injuries.
Rose went on to allege a series of horrific accidents on set, including a crew member who "got 3rd degree burns over his whole body, and we were given no therapy after witnessing his skin fall off his face," and a PA who was "left quadriplegic" (the Vancouver Sun also reported on the March 2020 accident that tragically paralyzed the woman).
Rose also detailed alleged toxic behavior from executives, the showrunner, and her co-star.
In addition to the horrific stories from a seemingly dangerous set, Rose also said that Roth allegedly made "young women steam [his] pants, around your crotch while you were still wearing said pants," and that Roth allegedly hired a private investigator to track Rose. "When it comes to you, there's already an army waiting for u," Rose stated in her posts.
The actor also leveled several accusations against Batwoman co-star Dougray Scott, saying he "hurt a female stunt double…and he abused women," and against the showrunner, Caroline Dries, saying she reportedly stated that Rose's on-set injuries occurred "at yoga" and that Dries pushed to continue working at the start of the pandemic despite the fact that other CW shows had shut down.
Finally, Rose says they never quit, but rather that she refused to "sign my rights away," which forced her exit. Rose also added that they would never return to Batwoman for "any amount of money nor if a gun were to my head."