Rude Customer's Apology Note To A Starbucks Barista Goes Viral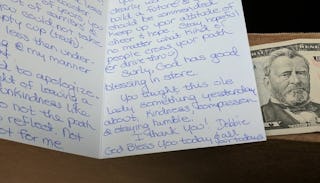 Image via Reddit
Starbucks barista gets a nice surprise from a rude customer
Baristas are used to rude customers. After all, most of us aren't ourselves until after we've had our coffee. But one woman holds herself to a higher standard, and a Starbucks employee is fifty bucks richer because of it.
An article on TODAY has all the details of the surprise Andrew Richardson received early last week, when a woman named Debbie showed up at his drive-thru window.
She asked if he'd been working the day before, and when he said yes, she handed him a card that contained a handwritten apology and a crisp $50 bill. Richardson not only got some extra cash from the encounter, he's also experiencing a small level of fame as the picture of the note that he posted on Reddit is going viral.
In the note, Debbie apologizes for a "less than cheerful encounter," and admits that Andrew was not at fault for the fact that he was out of carriers and couldn't dispose of her trash, due to health regulations.
"I was less than understanding and my manner was curt. I need to apologize. The thought of leaving a trail of unkindness like that is so not the path I want to reflect…You are a young man, clearly working hard to build a future and you should be commended."
The best part? Andrew didn't think she'd been rude at all!
In a statement to the press, he says that he remembers that Debbie was "mildly irritated" but "still pleasant" during the brief encounter that prompted her apology. "It was like two on a scale of 10 for me."
I wonder how much she would have paid him if she'd dropped an f-bomb or something!
Baristas are no strangers to the occasional rude customer. But there don't seem to be too many of them at this Starbucks, located in Bishop, CA, a small city of only 3,900 people.
The manager, Donna Smalley, tells TODAY Food, "Obviously, she was having a bad day. I think it's phenomenal what she did. She also referred to Richardson as a "great" employee over his two years at the store. "We appreciate him."
This may be just me, but the thought of Debbie spending an entire day agonizing over something that barely even registered to anyone else is pretty amusing. It's even better that she was torn up about offending Richardson, who seems like the world's most mild-mannered barista.
When asked how he deals with the occasional rude customer, he says, "I just try to be super nice back to them. It works as a nice counterattack."
Might I suggest giving them $50 dollars too? That will really shut them up!