Rugrats Is Getting A Reboot And There's Already A Trailer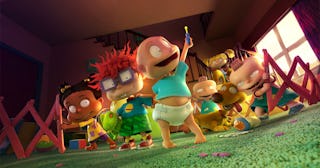 Nickelodeon/ Paramount+
Rugrats is coming back, and yes, the gang is still all babies
If you're a millennial of a certain age, you know that there was truly nothing better on TV back in the day than Rugrats, the Nickelodeon cartoon series that followed Tommy Pickles and his gang of fellow babies and toddlers on all their crazy misadventures. To this day, if I'm ever feeling stressed out, pulling up a YouTube video of the show's theme song and opening sequence is all it takes to get right back to a happy place — eating fruit snacks on the couch with my brothers. And now, Rugrats is getting a reboot, and while it'll look a little different, there's still plenty to be excited about.
Here, check out the first look for the series.
Instead of the classic, pastel-colored cartoon, this Rugrats is going to be in CGI, which might be a little off-putting for the most nostalgic of us. But if you listen carefully to that first-look video, you probably notice something amazing: All of the original voice actors from the series are back for the reboot, so if the CGI is ever too much, all you have to do is close your eyes to be transported right back to the good old days of 1994.
The trailer is also jam packed with Easter eggs for fans of the original series. It opens with the gang watching Reptar In Space, with Tommy at one point yelling, "Use your laser eyes, Reptar!" We catch just a quick glimpse of Phil, Lil, and Susie before the scene cuts to Angelica, the group's villain, convincing Chuckie to play a "game" with her (which means she wants him to get the heat for stealing cookies from the pantry for her). The calls the game "My Personal Jonathan," which, if you remember, is a nod to her high-powered career woman mom, who has an assistant named Jonathan who's always in her ear on her cell phone.
The reboot series will air on Paramount+ but there's still no release date — all we know is that it's coming sometime this year. In the meantime, if you need to get your fix, nine seasons of the original show are available to stream on Hulu. Plus there are the three Rugrats movies, and two other spin-offs that came before this one ("All Grown Up" fans, where you at?).
And if you need just a little something to bring back the happy memories right now, well, here you go.