The 'Rugrats' Are Coming Back, And The Internet Can't Handle It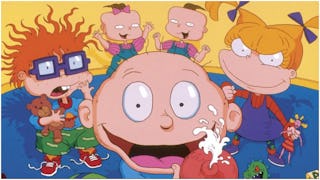 Image via Nickelodeon
The Rugrats gang is coming back to Nickelodeon
First they brought back Full House. Then, they decided to bring back Daria. Now, the 90's gods are gracing us with a Rugrats reboot and the world has officially become a – marginally – happier place. I mean, we could all use some Angelica (+ her doll Cynthia) in our lives, no matter how sassy she gets.
Nickelodeon announced plans for a 26-episode reboot of the beloved kids show, along with a CGI live-action film featuring the whole diapered gang.
"Now feels like the ideal time to reintroduce this iconic cast of characters to a whole new generation of young fans," Brian Robbins, president of Paramount Players, said in a statement. "Kids who grew up with Tommy Pickles and the Rugrats crew will now be able to share that experience with their own children."
If this is only marginally exciting to you, I'd like to draw your attention immediately to the Rugrats opening credits. You will feel things when you watch this video again.
So, I'm assuming you're now officially on-board. But will today's kids be able to appreciate the antics of the Pickles family? Sarah Levy, COO of Viacom Media Networks, certainly thinks so.
"Rugrats is hands-down one of the most celebrated cartoons in TV history, and we are thrilled for a whole new audience to meet these iconic characters in brand-new adventures," she said in a statement. "What was true in 1991 when the original show premiered is still true today: kids are fascinated with the world of babies. We can't wait for today's kids to meet Tommy, Chuckie and pals."
One thing is for sure: the people of the internet have some THOUGHTS about this reboot. Some are beyond excited. Some are skeptical. Some are pissed. And some are just pleased that they're getting a little piece of the 90's back in their lives.
https://twitter.com/jetpack/status/1019013160987168768
Thankfully, this isn't the last of the reboots hitting the small screen. We're getting an enormous delivery of nostalgia heading our way. Nickelodeon is planning on shooting revivals of Rocko's Modern Life, Invader Zim, and Blue's Clues (um…what has Steve been up to?!?!)
No word yet on the air dates, but hopefully we'll get Tommy Pickles and the whole rest of the baby gang on our TV screens very, very soon.
This article was originally published on