Runner Who Sexually Assaulted Reporter On Air Has Been Arrested
by Christina Marfice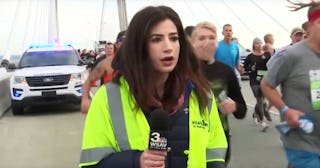 WSAV/Youtube
Tommy Callaway could now face up to a year in jail
Tommy Callaway, the Georgia man who slapped a reporter on the butt during a live TV broadcast from a Savannah road race, was arrested Friday and charged with misdemeanor sexual battery. If convicted, he could spend up to a year in jail for his actions.
In the harrowing video of the incident, reporter Alex Bozarjian is standing on the sidelines at the Enmarket Savannah Bridge Run, wearing a bright yellow safety vest as she gives her broadcast. Many runners wave to her camera as they go by. Callaway winds up and smacks her as he passes. You can see her face fall as she stares after him for a moment before she haltingly tries to continue her broadcast. The look on her face is chilling.
According to police, Bozarjian filed a police report on Wednesday last week, describing what happened as a "smack and grab." Callaway turned himself in on Friday, when he was booked, processed, and released on $1,300 bail.
Bozarjian is being represented by famed women's rights attorney Gloria Allred, who made a statement to local media saying Bozarjian plans on being a witness if the case goes to trial, and adding, "Alex is looking forward to justice in this case."
In the aftermath of all this, Callaway seems to have already faced some consequences. The church where he volunteered as a youth group leader seems to have distanced itself from him, and the Boy Scouts of America, for whom Callaway has been a Scout leader since 1987, released a statement to announce they had completely cut ties.
"Upon learning of this incident, we immediately removed this individual and prohibited him from any future participation in our programs," the Boy Scouts' statement reads. "This behavior runs counter to Scouting's values and everything we teach our members about treating others with dignity and respect. The [Boy Scouts of America] takes this type of conduct very seriously, and we always consider what is best for our youth members, staff, and volunteers when making these decisions."
Callaway was also banned for life from participating in any other races organized by the Savannah Sports Council.
While Callaway did appear on TV to apologize, he didn't really take responsibility for his actions. He first claimed that he didn't slap Bozarjian on the behind.
"I was getting ready to bring my hands up and wave to the camera and to the audience, and there was a misjudge in character and decision-making. I touched her back. I did not know exactly where I touched her," he said.
He also said, "I am not that person that people are portraying me as." But no one is portraying him as anything. He is portraying himself as someone who sexually assaulted a woman and got caught. Now, we just hope he faces the consequences for what he did.
This article was originally published on