You Can Now Order Your Very Own Notorious RBG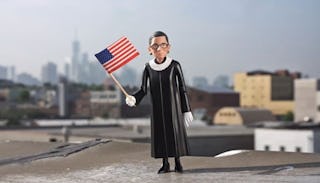 Image via Instagram/FCTRY
Soon everyone can own their very own RBG
Not all heroes wear capes — some wear robes. Long, black robes with a fancy little white collar to be more specific. Which is why a design studio in Brooklyn decided the world needs a Ruth Bader Ginsburg action figure — and who can argue with that?
FCTRY, the company behind the RBG action figure, recently created a Kickstarter campaign in order to gain financial backers for the creation of the doll. Her Honor is one of the few shining beacons of light during these dark times, so it's no surprise over 15,000 people stepped up and gladly threw their money to the cause.
OMG. Can you even stand it? The RBG doll has got our favorite feminist nailed down to every recognizable detail including the bun, the glasses, and her fabulous earrings.
"What makes this project extra-gratifying is the fact that RBG is such a tremendously positive and inspirational character to so many different kinds of people," says FCTRY, per their Kickstarter.
RBG isn't the company's first foray into creating action figures. Check out their awesome versions of Elizabeth Warren and Hillary Clinton:
Check out all of these left-leaning legends — raise your hand if you want the whole collection, post haste.
FCTRY donated $1 from every backer to "She's the First" — an organization that provides scholarships, mentorship programs, and life skills training to young women worldwide. Which totally aligns with the company's views on many levels. "Knowing that some of these figures will surely wind up in the hands of young girls and boys who may, quite possibly, grow up entirely free of all of the antiquated stereotypes that RBG has spent her life dismantling is both gratifying and humbling."
This article was originally published on