RBG To Be Honored With A Statue In Her Hometown Of Brooklyn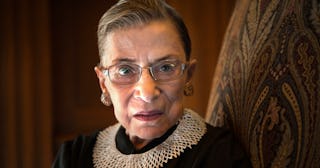 Nikki Kahn/The Washington Post via Getty Images
Since the devastating passing of Justice Ruth Bader Ginsburg, tributes have flooded social media, from former POTUS Barack Obama and the late Associate Justice of the Supreme Court Antonin Scalia's son to SNL cast member Kate McKinnon, who played Ginsburg on the show since 2012. But Cuomo announced on Saturday he's honoring the champion of women's rights and feminist icon in a much more tangible way: with a statue in Brooklyn, her birthplace.
"This statue will serve as a physical reminder of Justice Ginsburg's monumental contributions to the America we know today and as an inspiration for all," Cuomo tweeted.
According to the New York Governor's tweeted release, Cuomo will appoint a commission to select an artist and undergo a location selection process.
"Justice Ruth Bader Ginsburg selflessly pursued truth and justice in a world of division, giving voice to the voiceless and uplifting those who were pushed aside by forces of hate and indifference. As a lawyer, jurist, and professor, she redefined gender equity and civil rights and ensured that America lived up to her founding ideals — she was a monumental figure of equality, and we can all agree that she deserves a monument in her honor," Cuomo said.
"She preserved despite several bouts of cancer and was present every single day to participate in the strengthening and safeguarding of our democracy," the governor continued. "Her 27 years on the court reshaped our understanding of the basic tenants of equality and justice. While the family of New York mourns Justice Ginsburg's death, we remember proudly that she started her incredible journey right here in Brooklyn."
RBG was born in Brooklyn on March 15, 1933 and and grew up in the borough's Flatbush neighborhood. She received her B.A. from Cornell University, later attended Harvard Law School, received her LL.B. from Columbia Law School, and served as a law clerk to the Honorable Edmund L. Palmieri, Judge of the United States District Court for the Southern District of New York, from 1959 to 1961. From 1961 to 1963, she was a research associate and then associate director of the Columbia Law School Project on International Procedure. She was a Professor of Law at Rutgers University School of Law from 1963 to 1972, and returned to New York to attend Columbia Law School from 1972 to 1980.
In 1971, RBG was instrumental in launching the Women's Rights Project of the American Civil Liberties Union. During that time, she helped write the ACLU brief in Reed vs. Reed, "a case argued before the Supreme Court that involved discrimination against women in awarding the administration of a child's estate."
Ginsburg also served as the ACLU's General Counsel from 1973 to 1980 and on the National Board of Directors from 1974 to 1980. And she was later appointed Associate Justice of the United States Supreme Court by President Clinton in 1993, becoming the second woman to sit on the bench of the United States Supreme Court in its 212 year history.
RBG died Friday of complications from metastatic pancreatic cancer at 87.
"Her legacy will love on in the progress she created for our society," Cuomo said, "and this statue will serve as a physical reminder of her many contributions to the America we know today and as an inspiration for those who will continue to build on her immense body of work for generations to come."