RBG's Trainer Says His Final Goodbye With Pushups Next To Her Casket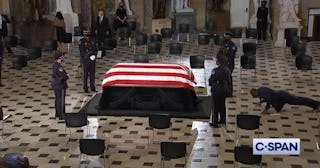 Twitter/CSPAN
Bryant Johnson trained Ruth Bader Ginsburg for more than 20 years
Earlier this morning, Supreme Court Justice Ruth Bader Ginsburg became the first woman and Jewish person in history to lie in state in the U.S. Capitol building. A ceremony was held in her honor, and as politicians, friends, and family members paid their respects, her personal trainer of over 20 years gave one final salute to his boss in the form of pushups.
Throughout her more than 27 years on the Supreme Court, Ginsburg was a champion of equal rights and a role model for women everywhere. She was also known to have quite the workout routine — consisting of squats, curls, planks and 20 pushups. Bryant Johnson, her personal trainer, even wrote a book about it in 2017 titled, "The RBG Workout: How She Stays Strong…And You Can Too!" It was only fitting he honor her by doing three of his own next to her casket.
Johnson and Ginsberg began working out together over 20 years ago after she survived her first bout with cancer. During their sessions, Johnson said there was little time for small talk so he made sure her favorite background noises were always at the ready: classical music and "PBS Newshour," he told Jewish Telegraphic Agency.
As people left the Capitol and took a moment to say their final farewells, Johnson approached her casket, knelt down, and did three pushups.
People took to social media to show their appreciation for a man who kept an icon healthy for so many years:
https://twitter.com/jetpack/status/1309555150512562176
Justice Ginsburg was consistent in her workouts and, though tiny, she was strong and serious about staying in shape. She even went on The Late Show with Stephen Colbert in 2018 to show off her strength and give Colbert a run for his money. The talk show host said that her workout was "super hard," before adding, "which is surprising, because if I had a lifetime appointment to a job that let me wear a robe, I would definitely let myself go. It's just a black muumuu. It would be nothing but fondue 24/7."
"Because she first of all made America see what leadership looks like and in the law, in terms of public service and she broke so many barriers and I know she did it intentionally knowing that people like me could follow," Senator Kamala Harris said upon leaving the ceremony.
Johnson, whom she reportedly referred to as "the most important person" in her life (excluding her family), according to his website, has been there for her throughout her career and health setbacks. A member of the U.S. Army for 30 years, he served as a personal trainer to "various military and civilian personnel, including high level Federal Court officials; Justices, Judges, Attorneys, and Clerks."
Thank you from all of us, Mr. Johnson. For giving her the perfect send-off and making all of us smile today after a tough week.