Justice RBG Is Dead At 87 And Everything Is Terrible
by Kristine Cannon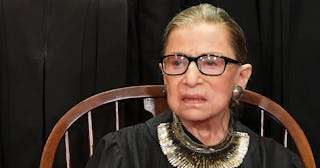 According to the Supreme Court, Justice Ruth Bader Ginsburg died of metastatic pancreatic cancer
Champion of women's rights and feminist icon Justice Ruth Bader Ginsburg has devastatingly died at the age of 87. According to the Supreme Court, who announced her death via statement on Friday, Ginsburg died of metastatic pancreatic cancer at her home in Washington, D.C., surrounding by family.
"Our nation has lost a justice of historic stature," Chief Justice John Roberts said. "We at the Supreme Court have lost a cherished colleague. Today, we mourn but with confidence that future generations will remember Ruth Bader Ginsburg as we knew her, a tired and resolute champion of justice."
A private interment service will be held at Arlington National Cemetery.
Leading up to her passing, Ginsburg may have battled bouts of cancer — including treatment for colon cancer in 1999, undergoing surgery for early-stage pancreatic cancer in 2009, and battling pancreatic cancer again last summer, completing three weeks of radiation treatment — but her strength never waned and she was as mentally sharp as ever. Not only did she make her intentions crystal clear she'd stay on the court "as long as I'm healthy and mentally agile," but she also more recently told her granddaughter Clara Spera, "My most fervent wish is that I will not be replaced until a new president is installed."
To say the loss of Ginsburg, an historic figure who served 27 years on the nation's highest court and was the leader of the liberal wing, is a heavy one would be a severe understatement. Leading up to her first judicial appointment in 1980, Ginsburg led the fight in courts for gender equality for more than a decade.
In 1971, Ginsburg was instrumental in launching the Women's Rights Project of the American Civil Liberties Union. During that time, she helped write the ACLU brief in Reed vs. Reed, "a case argued before the Supreme Court that involved discrimination against women in awarding the administration of a child's estate."
"Reliance on overbroad generalizations … estimates about the way most men or most women are, will not suffice to deny opportunity to women whose talent and capacity place them outside the average description," Ginsburg wrote.
Ginsburg also served as the ACLU's General Counsel from 1973 to 1980 and on the National Board of Directors from 1974 to 1980.
Ginsburg was later appointed Associate Justice of the United States Supreme Court by President Clinton in 1993, becoming the second woman to sit on the bench of the United States Supreme Court in its 212 year history.
Now with Ginsburg gone, Trump now has the opportunity to name her replacement. And if his past two appointments are any indication — Justices Neil M. Gorsuch and Brett M. Kavanaugh — the court could transform, as the New York Times puts it, into a "profoundly conservative institution" — "one in which Republican appointees would outnumber Democratic ones six to three."
In her absence — and as many have so powerfully pointed out — we must fight and continue to fight for justice. For Ginsburg, who once said, "Fight for the things that you care about, but do it in a way that will lead others to join you."
Rest now, RBG. You will be missed.