Ruth Bader Ginsburg Was Hospitalized For Chills And Fever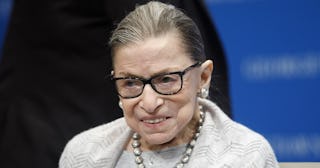 Tom Brenner/Getty Images
Supreme Court Justice Ruth Bader Ginsburg was admitted Friday night to Johns Hopkins Hospital in Baltimore
It's been quite the weekend for Supreme Court Justice Ruth Bader Ginsburg. According to the Supreme Court, Ginsburg was hospitalized after experiencing chills and fever, and she may be released as early as Sunday morning.
According to the court's press release, Ginsburg was admitted to Johns Hopkins Hospital in Baltimore, Maryland on Friday night and was initially evaluated at Sibley Memorial Hospital in Washington, D.C. before she was transferred to Johns Hopkins Hospital for further evaluation and treatment of any possible infection. Her symptoms have since abated following intravenous antibiotics and fluids.
This hospitalization follows Ginsburg's return to the bench Monday after missing a day of arguments the previous week — on Nov. 13. According to Chief Justice John Roberts, Ginsburg was home with a stomach bug, but she returned for the court's public meeting on Nov. 18.
Ginsburg has been treated for cancer twice in the past year. She received radiation for a tumor on her pancreas in August, undergoing three weeks of radiation treatment at Memorial Sloan Kettering Cancer Center in New York.
"The tumor was treated definitively and there is no evidence of disease elsewhere in the body," the court said at the time.
Ginsburg also underwent surgery for lung cancer last winter, marking the first time in her 26-year Supreme Court career she had been absent.
The lung cancer was discovered during an x-ray after she fell and broke three ribs. Ginsburg also had early-stage colon and pancreatic cancers that were discovered and treated in 1999 and 2009, respectively.
Ginsburg has made clear her intentions to stay on the court "as long as I'm healthy and mentally agile." Ginsburg, who was appointed to the high court by then-President Bill Clinton in 1993, is a four-time cancer survivor after all.
"There was a senator, I think it was after my pancreatic cancer, who announced with great glee that I was going to be dead within six months," Ginsburg said during an interview with NPR. "That senator, whose name I have forgotten, is now himself dead, and I am very much alive."
And it's clear she has much left on her agenda to accomplish. In a speech she gave at the University of Buffalo on Aug. 26, Ginsburg said she's optimistic for the future.
"It was exhilarating to help bring down the barriers that, in Justice Brennan's words, put women less 'on a pedestal,' than 'in a cage.' So much has changed for the better since then. True, we have not reached Nirvana, but the progress I have seen in my lifetime makes me optimistic for the future. Our communities, nation, and world will be increasingly improved as women achieve their rightful place in all fields of human endeavor," Ginsburg said.
Amen.