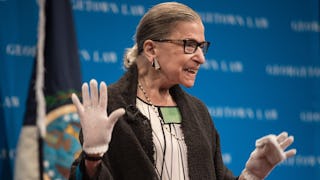 Image via NICHOLAS KAMM/AFP/Getty Images
Ruth Bader Ginsburg, aka, The Notorious RBG, is back — and better than ever
Ruth Bader Ginsburg just spent a little time recovering from her third cancer surgery, no big deal, and is all ready to return to the bench, which is exactly what she did today. Our shining beacon of hope on the increasingly worrisome Supreme Court is participating in the justices' scheduled closed door conference today, and it's exactly the news we've been waiting for.
She's back. As if we ever had any doubt.
Ginsburg's third bout with cancer (she had surgery for colorectal cancer in 1999 and early stage pancreatic cancer in 2009) was dealt with almost as quickly as we all heard about it. It was a fall in her office that broke three ribs, leading to scans that detected two cancerous nodules in her left lung, according to CNN. She underwent surgery to remove them back in December, and shortly after, the court released a statement saying there was no evidence of remaining disease in her lungs — or anywhere else in her body.
Praise.
For the first time in her 25-year career on the Supreme Court bench, Ginsburg had to sit out oral arguments for a period of two weeks while she recovered from the December procedure. I think I sat out the gym for like, a month last year when I stubbed my toe. This woman is a phenom in every single way and we should all bow down.
TBH, we'd like to think that Trump's emergency nonsense is what gave RBG the spark to come back to work now as opposed to like, a week from now. Let us have that. We deserve it.
Although her recent health situations have given us all quite the scare, if we looked deep within this tiny powerhouse of a brilliant woman, we'd realize we had no reason to freak out. After all, her workout routine would whoop most of us into exhaustion and she's hired clerks through the year 2020. She seems like the kind of person who sticks with whatever she's committed to, so we'll try to keep the faith.
I mean, there's an action figure made in her likeness for a reason. And a sassy lip gloss bearing her name. We stan a brilliant legend who's defended women and children her literal entire career.
It's not hyperbole to say that the hopes of liberals everywhere rest on her 85-year-old shoulders, and while she's proven time and again that she's basically a stone cold bad ass made of steel, we wish she could just happily retire and not have to worry that the world will fall apart. We're grateful for her continued service and badassery and will continue to offer any and all organs she needs or to simply carry her everywhere she goes.
This article was originally published on