Ruth Bader Ginsburg Voted Against Trump's Asylum Ban -- From The Hospital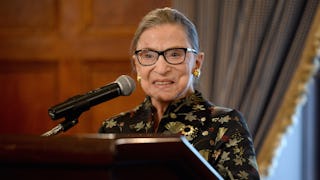 Image via Michael Kovac/Getty Images
Ruth Bader Ginsburg — long live our Queen
Proving not all heroes wear capes, Supreme Court Justice Ruth Bader Ginsburg voted against Trump's proposed immigrant asylum restrictions — FROM THE HOSPITAL.
Ginsburg is literally 48 hours post-surgery, and she's still working harder than the president.
She cast her vote directly from her hospital bed, according to Mother Jones. She's currently recovering from surgery to remove cancerous growths discovered in her lung, just one month after suffering a fall that resulted in broken ribs.
No one can say Ruth Bader Ginsburg isn't as tough as they come. She was the decisive vote in the 5-4 decision against the Trump proposal. This ruling effectively blocks the Trump administration from implementing new rules that prohibit people from seeking asylum if they cross the border to do so.
Trump initially issued the "asylum ban" in early November in direct response to the migrant caravans he used as a hot-button issue to rile up his base ahead of the mid-term elections and hasn't really mentioned since.
The ban goes against U.S. immigration law, which states that migrants are eligible for asylum whether or not they arrive at a "designated port of arrival." A federal judge blocked the Trump administration from enforcing the ban.
The Trump Administration appealed the decision to the Supreme Court. And now, thanks to our beloved Notorious RBG, the racist and hateful ban will not go into effect.
Ginsburg's medical team at Sloan Kettering says they expect the 85-year-old justice to make a full recovery. We're sending every single positive vibe we can muster her way — it's what she and the entire country needs and deserves in 2019.