Broadway Star Loses Unborn Child Months After Accident That Killed Her 4-Year-Old
by Valerie Williams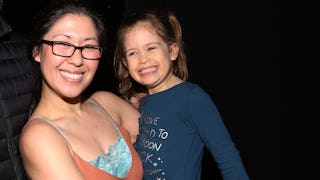 Image via Walter McBride/WireImage
Ruthie Ann Miles lost her daughter two months ago, and now, her unborn child has also passed
In unfathomably tragic news, Broadway star Ruthie Ann Miles has lost her unborn child months after the horrific accident that killed her four-year-old daughter and a friend's young son.
On March 5, Miles and her daughter, Abigail Blumenstein, were out together with Miles' friend Lauren Lew and Lew's one-year-old son Joshua when tragedy struck. While crossing a street in Brooklyn's Park Slope neighborhood, motorist Dorothy Bruns ran a red light, striking Lew, Miles, and their children. Abigail and Joshua were both killed that day while Miles and Lew were taken to New York Methodist Hospital for their injuries, Playbill reports.
Miles was in her seventh month of pregnancy at the time of the accident, and was due to give birth this month. A heartbreaking statement released today shares the awful update:
"As many of you know, Ruthie and Jonathan's daughter, Abigail, was tragically killed. At the time of the crash, Ruthie was pregnant and was severely injured. This past Friday, Ruthie and Jonathan lost their baby, Sophia Rosemary Wong Blumenstein," writes Ben Rubinowitz, the lawyer who wrote the statement on Ruthie and her husband Jonathan's behalf.
"The pain suffered by Ruthie and Jonathan is nearly impossible to fathom," the statement continues. "As you might imagine, they are overwhelmed by the sadness of the deaths of their children." The couple asks for privacy and thanks family and friends for their support.
Shortly after the accident, a message on Miles' Twitter account thanked everyone for their prayers and kindness. "Ruthie is now out of ICU and healing, by all accounts it is a miracle our second child is unharmed," the statement read.
According to Broadway World, Bruns had been cited four times for running red lights and another four times for speeding through a school zone, all in the last two years. The day of the accident, she attempted to flee the scene but crashed into several cars and was apprehended. She reportedly suffers from multiple sclerosis and had a seizure while driving on the day of the crash.
The Broadway community is sending all their love and sympathy to Miles and her family after hearing the horrible news.
It's impossible to grasp the pain and darkness Miles and her husband are feeling right now. In no fair world do parents lose all of their kids, and for it to happen so violently is simply unimaginable. Our hearts go out to the family during this incredibly difficult time.