Boy Who Helped End Lunch Shaming Selected As One Of Time Magazine's Heroes of 2019
by Valerie Williams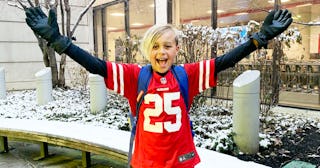 Courtesy of Kylie Kirkpatrick
Ryan Kyote helped end lunch shaming in California — and now, he's being honored by Time Magazine
Ten-year-old Ryan Kyote had a big year all thanks to his good deed of paying off his classmates' lunch debt with his own allowance — and using that viral moment to start a movement much bigger than just his own class. Now, Kyote is being honored as one of Time Magazine's Heroes of 2019. It's hard to think of anyone who deserves it more.
It all started this past June, according to local Napa, California, station KGO, when Kyote saw on the news that a school in Indiana had taken away a six-year-old's lunch when her account didn't have the funds. That prompted Kyote to wonder how he could help with the issue at his own school. As it turned out, the whole school had a debt of $700, which was out of Ryan's budget. But his class owed just about $75, an amount he decided to pay off with his allowance earnings.
The generous kiddo didn't let it end there. He turned his kind act into even greater action, resulting in his home state of California passing a law to end lunch-shaming — and get kids fed.
The bill, authored by state Sen. Robert Hertzberg, was signed into law by Governor Gavin Newsom this past October. It bans schools from serving cheaper, "alternative" lunches, ensuring all students receive a "state reimbursable meal of their choice, even if their parent or guardian has unpaid meal fees." Newsom honored Kyote for his efforts and for being the catalyst for change. "I want to thank Ryan for his empathy and his courage in bringing awareness to this important issue," Newsom said in a news release. "Creating a 'California for All' means ensuring schools are inclusive, accepting, and welcoming of all kids. These bills help move us closer to that goal."
Now, Time is recognizing his efforts too by naming him as one of this year's Heroes. Kyote told the mag that "Heroes come in all ages," and his act of kindness definitely proves it.
"Honored to be included with these amazing heroes and hope this will draw even more attention to stop lunch debt shaming. Superstars like Richard Sherman helping pay lunch debt is powerful," Kyote tells Scary Mommy. And of course, his mission isn't over by any means. His mom, Kylie Kirkpatrick, tells us that they're going to Rhode Island next week to help pass lunch-shaming debt there too. "A Representative has been working on legislation for four years without success so we are going to get involved to help them out," she says.
It's only fitting that Kyote's big year be capped off by being officially named a Hero — but he already was one to all the kids his activism is helping.