'Selfie Kid' Was The Real Super Bowl MVP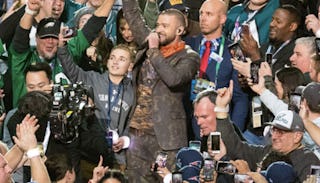 Image via Christopher Polk/Staff/Getty Images
Teen gets selfie with Justin Timberlake, quickly becomes internet meme
Anyone who tuned in to last night's Super Bowl (or at least the Super Bowl halftime show) knows it wasn't just Justin Timberlake who's making headlines this morning. At one point he was upstaged by a 13-year-old who will forever be known as the "Selfie Kid."
Ryan McKenna from Hingham, Massachusetts was just enjoying the halftime show last night at U.S. Bank Stadium like everyone else when all of a sudden, Timberlake made his way from the field into the stands, stopping right next to him.
"I'm a huge Justin Timberlake fan, and that was my favorite song — 'Can't Stop [the] Feeling' — so I was just so excited that he was right there playing that song," McKenna told TODAY.
McKenna was apparently taking video of the moment and decided, like any kid his age, this would be the perfect moment for a selfie. Of course I, like many other parents, were screaming at the TV, "OMG kid, stop staring at your phone Justin Timberlake is standing right next to you!"
Hilariously, it seems McKenna staring into his phone has quickly become everyone's favorite meme of the Super Bowl:
But hey, this adorable teen now has his very own selfie with Justin Timberlake while I have 17 pictures of my cat on my phone. So what do I know.
Apparently the reason McKenna was staring at his phone for so long was the result of a classic phone fail. "I had a video going, and then my phone got shut off, and I had to pull back up the phone to get the picture going," he told TODAY. "And then I finally got the selfie in the end."
Of course, it didn't stop the internet from having a field day with the moment because the internet is a funny place:
It's pretty clear from all the attention he's received thus far, McKenna is going to be the hit of middle school when he returns. "My phone is almost dead," McKenna told the Twin Cities Pioneer Press. "I've gotten so many notifications. I've got like 36 Snapchats, like 21 DMs, and like 150 follower requests on Instagram."
(looks up "what is a DM?")
"It was already crazy to be at the Super Bowl in the first place," McKenna continued. "Then all of a sudden I'm up on the jumbotron and everyone is talking about me. I can't believe it."
He got a framer, for sure.
This article was originally published on