Man Put Up Billboards Searching For A Kidney Donor -- And It Worked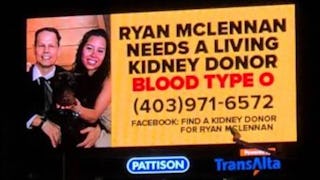 Image via Ryan Mclennan / Facebook
Ryan Mclennan was skeptical that billboards would help, until a stranger saw one and offered his kidney
This holiday season, Ryan Mclennan is getting an incredible gift. Mclennan, a high school shop teacher from Alberta, Canada, has battled chronic kidney failure for much of his life. Now, thanks to a series of billboards and the kindness of a stranger, he's getting a transplant this week.
In February, Mclennan and his wife, Shakina, decided to purchase a series of 27 digital billboards across Alberta, reading, "Ryan McLennan needs a living kidney donor" and listing his blood type.
That was nine months ago. The billboards were up for so long without Mclennan finding a donor, he almost gave up hope.
"I didn't think it was going to happen," he told CTV Calgary. "I just thought, this is going to be my life; I'm going to be on dialysis forever."
But over the course of those nine months, 170 people called the number on the billboards and spoke to The Kidney Foundation. 50 of them applied to donate kidneys to Mclennan. 30 underwent testing to see if their kidneys could be a match. And finally, 47-year-old Tony Timmons, who drives past one of the billboards every day on his way to work, decided to call.
"There's people waiting for organs that are dying," Timmons said. "I've got two, so why not?"
Timmons was the match Mclennan had been waiting and hoping for. They're scheduled for surgery Wednesday.
This is life changing for Mclennan, who received his first kidney transplant from his mom around 15 years ago. He has no other matching family members, and a kidney infection earlier this year put his donated kidney (and his life) at risk.
"I got a kidney infection which decreased my kidney function to 4% and it can be life threatening; so I got an emergency dialysis. The pain was sometimes unbearable," he wrote on Facebook.
According to Global News, the wait for a donated organ in Canada can be up to 10 years. The Kidney Foundation said 45 people in Alberta died in 2017 waiting for organ donations.
For Mclennan, the future is suddenly much more hopeful, and it's all because of Timmons.
"You ask them, 'Why? Why help me?' And they say, 'Because I can and I would want the same for me!'" he said. "It's the most amazing feeling and you thank them and you dig deep because to you…without their gift you know you will struggle every day with pain and sickness."