Ryan Reynolds, Chris Pratt, And More Send Messages To Marvel Fan Battling Cancer
by Thea Glassman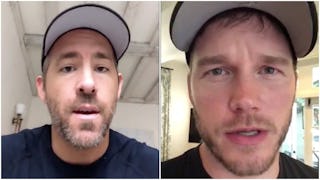 Image via Twitter/josh_braveheart
A Marvel fan with only months to live received messages of support from his favorite celebrities
When you ask superheroes to assemble, they'll do it. Especially when it's for a very worthy cause. 17-year-old Josh, who is battling leukemia and brain cancer, was told he only has a few more months to live. His last wish is to hear from his favorite Marvel characters – and the responses have already started to pour in.
Josh's friend, who goes by @KrissieCosplay on Twitter, posted a message hoping to catch the attention of a few big name celebrities. "PLEASE SHARE THE HELL OUT OF THIS!" she wrote. "He only has a couple of months to live, we need to make his wish come true before it's too late."
She explained that Josh is a massive fan of the Marvel universe, and would love to hear from any of the actors. "Normally I wouldn't ask for much but him and his poor family is going through enough grief as it is," she wrote. "…It would mean the world [to] him and his family!"
Well, the Marvel universe heard her loud and clear. Ryan Reynolds kicked it off by sending in his video and offering up sweet words of support for Josh.
"I just wanted to send you this video and let you know that we love you and we're thinking about you," he said. "I know that you're a Deadpool fan and a superhero fan and I think that's amazing. I also think that's kinda funny, for one particular reason. After hearing about you and hearing about your story and everything that you're going through, you know, I think it's pretty much a fact that you have more courage and more strength in your pinky finger than any superhero does in their entire body."
And the videos kept coming. Hugh Jackman sent in his own special message, as well.
"Hey Josh, Hugh Jackman here," he said. "I know you're facing some medical battles. I just wanted to let you know that I'm thinking about you…and sending you lots of positive thoughts. Keep fighting, man."
Chris Evans stepped in too.
And Tom Hollander. "I just wanted to send you a video and let you know that I'm thinking about you," he said. "Everyone at Marvel is thinking about you and we send you love."
Chris Pratt rounded it all out with a video filled with words of love and support. "I heard your story recently and I was moved and I wanted to make this video," he said. "Just wanted to reach out. Hopefully I can help put a smile on your face. I'm thinking about you and I love you and I'm praying for you and your mom."
Josh's friend Krissie posted a collection of the videos on Instagram and thanked the Marvel universe for assembling and making Josh so happy.
"I hope these videos put a smile on your face because it definitely did on mine and Josh's," she wrote. "It's because of this random act of kindness from these actors that I still have faith in humanity! Well done guys."