Ryan Reynolds Says Life At Home With 3 Daughters Includes 'Mostly Drinking'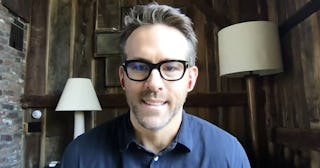 The Late Show with Stephen Colbert/Youtube
Ryan Reynolds and Blake Lively have also donated significant portions of money to coronavirus relief efforts
During an appearance on the at-home edition of The Late Show With Stephen Colbert this week, Ryan Reynolds hilariously opened up about what life is like at home with Blake Lively and their three daughters while we're all quarantining.
Reynolds and Lively have three little girls: James, 5, Inez, 3, and a yet-to-be-pubicly-named baby, 8 months. As many of us are finding out, three kids under five at home 24/7 is… a lot. He says his girls currently all love hot pink and wearing dresses "all day." So, how's the Deadpool star coping?
Well for one thing, he loves the company of all girls. "I do not miss masculine company at all. Really, most men tend to be the architects of someone's demise," he said. "So, it's fine. I like just being here with the girls. I like doing the girl stuff."
Even better, Reynolds lets the girls embrace their own interests. "I try not to push gender-normative ideas on my kids as they're born, but each one when they came out that shoot, they wanted to make dresses, they wanted to dress in hot pink all day. So, that's what I do. This morning I made dresses out of tissue paper, which was fun for them. Not bad at all."
As for homeschooling, well he and Lively are giving it about as much of a "go" as we all are. "We're lucky enough to have a little tiny garden," he added. "So, we're learning a little bit about gardening. We're trying to make this an educational experience, but I'm mostly drinking."
Aside from just trying to keep their kids entertained, he and Lively have put their money where their mouth is in terms of giving to coronavirus relief efforts. The couple donated $1 million that was split between Feeding America and Food Banks Canada.
They also donated $100,000 to each of the following four hospitals in New York: Elmhurst, NYU Hospital, Mount Sinai and Northern Westchester. They're also donating 30 percent of the proceeds from Reynolds' Aviation American Gin bottle sales to bartenders until May 1. If that wasn't enough, Reynolds' wireless carrier company, Mint Mobile, is providing customers with free unlimited data until May 14.
And since even celebrities are without access to their hairstylists for the time being, Reynolds has that problem covered: Blake Lively will be handling his next haircut. And honestly, the way he describes it is comedy gold.
"She's done this once before," he says. "It took two and a half hours. And then, at the end, it looked like she'd done the whole thing using only a lighter. Or, you know those gloves that are made of sandpaper? It would have been a little faster if she had just worn it down, like she had just rubbed my head until my hair disappeared."
LOL. Can we quarantine with these two, please and thanks?
This article was originally published on