Ryan Reynolds' Twitter Feed Should Be Required Reading For All Parents
by Christina Marfice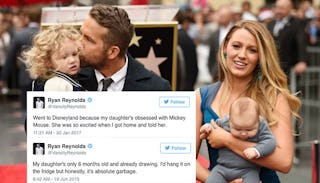 Via Matt Winkelmeyer/ Getty Images
Ryan Reynolds is writing the book on parenting one hilarious tweet at a time
Ryan Reynolds and Blake Lively are some of the most private celebrities out there. Sure, they're still acting and making public appearances. But when it comes to their home lives? Well, they keep that stuff at home.
That's why it's so surprising to discover that Reynolds has been quietly writing a parenting manual and dropping it, 140 characters at a time, on Twitter. He and Lively are parents to two daughters — 2-year-old James and 5-month-old Ines — which obviously makes them complete experts at this stuff, because two kids that young is basically boot camp for child-rearing.
OK, maybe don't take Reynolds' parenting advice too seriously. But definitely have a laugh at his hilarious takes on diaper explosions, kid crafts, traveling with babies and watching little girls grow up way too fast.
This isn't the first time Reynolds has offered parenting advice that cracked us all up. Just after his second daughter was born — and he was named one of GQ's Men of the Year — he released a video full of tips for the birth of a new baby. From the obvious — be in the room when it happens, Dad! — to the less so — don't tip your imaginary top hat and tell your wife you're "At your cervix" — it's no wonder Reynolds' Twitter advice is so great. He's got this dad thing on lock.
Reynolds proved he was the greatest celeb dad of all time again during an appearance on Late Night with Seth Meyers, where he gave the single greatest piece of dad advice ever to fall from the lips of a man: "Just do the dirty work, man. You gotta do the diapers, you gotta do the middle of the night thing. I mean, your wife — a human being will exit your wife, so she's done enough. Just change the diapers and do all that stuff." Have truer words ever been spoken?
Now who's turning them into a coffee table book?
This article was originally published on