Ryan Reynolds Is Every Parent Plagued By The 'Paw Patrol' Theme Song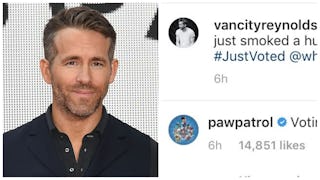 Image via Getty/Jun Sato/Instagram/Ryan Reynolds
'Paw Patrol' gets the best of us — even Ryan Reynolds agrees
There's truly no better celebrity content than celebrity parent content. Case in point: Ryan Reynolds, who recently engaged in a confrontation of sorts with Nickelodeon's Paw Patrol on his Instagram page. And, because it's Ryan Reynolds, it'll make you chuckle.
If you're a parent to a young child, chances are your television is tuned to children's programming for at least 75% of your time at home. Even if they're not watching it, it's on. Which means endless theme songs forever imprinted on our hippocampus, resulting in us humming it and reciting it over and over again throughout the day.
Paw Patrol in particular has a very catchy, if simplistic, tune. And even Ryan Reynolds can't escape its clutches. In a recent Instagram post, Reynolds shares that he voted early (Wikipedia tells us he has both Canadian and American dual citizenship) for the November 6th primaries.
Seems pretty nondescript, right? Well that's where Paw Patrol comes in. The social media manager for the show chimed in:
God bless the human who cheerily typed "Voting is PAWsome." We don't want to break their spirit. But Reynolds' response, "Get outta my head Paw Patrol. And take your damn theme song with you" is perfection.
LOL. Voting is definitely "Pawsome" but that "damn theme song" IS NOT.
Whether he's hilariously trolling his wife, Blake Lively, or sharing relatable anecdotes about his struggles with his own mental health — Ryan Reynolds is one of those celebrities that makes you feel like he's one of us.
Except for that whole super famous, super good-looking, married to super famous, super-good-looking Blake Lively thing. But "Paw Patrol, Paw Patrol, we'll be there on the double"? That shit will bring all of us down to the same level.