Cameras Catch Ryan Seacrest Making Creepy Comments To Katy Perry
by Jerriann Sullivan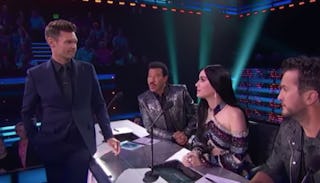 Image via YouTube/CNN
Ryan Seacrest made everyone uncomfortable with comments to Katy Perry
Cameras were rolling when American Idol host Ryan Seacrest made creepy comments to Katy Perry on Sunday night. The awkward situation was captured and shared all over Twitter. Seacrest was recently accused of sexually harassing his stylist for six years, which you better believe people brought up after his weird comments to Perry.
So, in the clip, it's hard to tell if Seacrest knows that they're back from commercial break. You'd think 16 years hosting the same show would be enough experience to know when you're on live television. The clip even starts out with her saying "We're on," as the cameras pan toward the host and judges. Seacrest ignores Perry's comment and responded with "Your mom's pretty." What. The. Hell.
The singer responds to Seacrest's bizarre comment about her mom by saying, "My mom? Well, I hope the apple doesn't fall far from the tree." She then turns and winks at the camera making it very clear – again – that they are on live television. But it only got worse. Seacrest laughed and said: "You are too, but you're not a mom." Perry responds with, "Not yet." Then Seacrest said: "Do you wanna talk about it?"
Ugh.
Music icon and Idol judge Lionel Richie immediately starts shaking his head and apparently said: "Don't start." Perry seemed shocked and said: "What?" The judges laughed uncomfortably before the show finally moved on. But Twitter did not. Idol fans tweeted about the uncomfortable exchange so much that it went viral.
Not everyone was shocked, though. In February, news broke about Seacrest's alleged sexual abuse and harassment of his former stylist.
https://twitter.com/jetpack/status/996516639423258624https://twitter.com/jetpack/status/996157861615910913https://twitter.com/jetpack/status/996468530278293504
Suzie Hardy said she was a single mother and desperate for a steady paycheck when she started working for the Idol host. "I came from a freelance life, and it was scary," she explained. "It was hard to raise a child and not know where your next check was going to come from, and if that gig was going to take me out of town for two weeks."
Hardy said Seacrest sexually harassed her for six years with the abuse escalating to sexual assault. Despite having witnesses to some of the sexual misconduct, NBCUniversal, E!'s parent company, sided with Seacrest and fired Hardy.
This article was originally published on