No One Wanted To Talk To Ryan Seacrest On The Oscars Red Carpet
by Jerriann Sullivan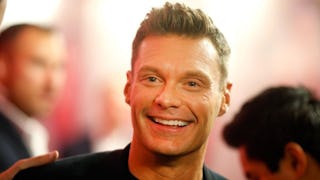 Image via Isaac Brekken/Getty Images
Celebrities reportedly avoided Ryan Seacrest at the Oscars
Ryan Seacrest found himself quite lonely on the Oscars red carpet last night amid allegations that he sexually harassed and assaulted his former stylist. Celebrities avoided the E! broadcaster who typically cohosts Live From the Red Carpet, which airs ahead of the Academy Awards.
E! sensed there could be some backlash at their decision to have an alleged sexual harasser interview many members of Hollywood's #MeToo and #TimesUp movement, according to The Hollywood Reporter. The network allegedly planned a 30-second delay so producers could edit out any uncomfortable comments made about Seacrest's alleged misconduct scandal. The network didn't come out and admit it but instead issued a statement that said they essentially always do it.
"As always, we tape multiple sources of content simultaneously to deliver the best possible show, and there are often brief delays between interviews," an E! spokesperson explained.
Turns out they didn't need to worry since so few celebrities took the time to speak with Seacrest at all — The Independent reports that he only had red carpet time with a total of 21 people.
As the night progressed, it became apparent that the snub was definitely real. Seacrest was given the cold shoulder by all five best actress nominees with none of them stopping to chat with the usually ubiquitous red carpet presence. Most celebrities avoided him altogether. One big star – Taraji P. Henson – did take a few minutes to chat with the E! host and said, "You know what, the universe has a way of taking care of the good people, you know what I mean?" The internet agreed that it didn't go well for Seacrest.
Last week, Seacrest's former stylist Suzie Hardy detailed alleged abuse that occurred over seven years in an exclusive interview with Variety. The single mother, who had a preschool-aged daughter at the time, said she "endured the abuse for years out of concern over being able to provide for her daughter, and that the situation only ended in 2013, when, after reporting Seacrest's actions to human-resources executives, her employment ended." The article exposing the alleged abuse is incredibly detailed and involves multiple sources. It covers claims that "Seacrest subjected Hardy to years of unwanted sexual aggression — grinding his erect penis against her while clad only in his underwear, groping her vagina, and at one point slapping her buttock so hard that it left a large welt still visible hours later."
Twitter not only noticed the lack of interviews, many wondered why the hell E! let him go on in the first place.
Despite the exhaustive report, E! decided to keep Seacrest on the red carpet, a move that was criticized by many including #MeToo movement founder Tarana Burke. Female actresses have come forward in recent months to share their experiences of workplace sexual harassment and abuse and to put them in an awkward situation of having to decide if they should talk to Seacrest was unnecessary. "They really shouldn't send him [to the Oscars]. We shouldn't have to make those choices of, 'Do we or don't we?'" Burke shared. "This is not about his guilt or innocence. It's about there being an accusation that's alive, and until they sort it out, it's really on E! News and shouldn't be on us." She added: "It will let us know where they stand in terms of how respectful E! News is of this issue – and of women."
Seacrest has repeatedly denied the claims.
This article was originally published on