Ryan Seacrest's Former Stylist Reveals Details of Alleged Sexual Assault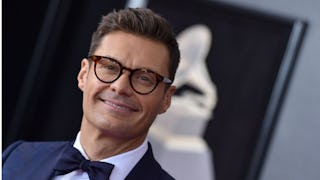 Image via Axelle Bauer-Griffin / Getty Images.
Ryan Seacrest's former stylist claims she was sexually harassed by the E! star for six years
The former stylist who came forward with allegations of sexual abuse and harassment against Ryan Seacrest last year has revealed startling new details about the E! host's alleged sexual misconduct, Variety reports. Suzie Hardy was a single mother desperate for the steady paycheck her work with Seacrest provided when she says Seacrest took advantage of her vulnerability and subjected her to six years of sexual harassment that eventually escalated to sexual assault.
The details came after Hardy wrote a letter to NBCUniversal, E!'s parent company, in Nov. 2017 outlining her claims against Seacrest and requesting that the company "come up with a plan to address the treatment of all women at the networks and to take responsibility for the wrongful treatment" of Hardy. Seven days later, Seacrest took the letter public, calling her claims against him "reckless allegations" in a statement released to The Hollywood Reporter.
Three months later, an independent investigation led by E! found "insufficient evidence to support the claims against Seacrest." But Hardy says the investigation left her frustrated.
"Total exasperation was my definite feeling when I heard about it," Hardy told Variety. "I felt like by the third interview, it was obvious the investigator was whitewashing it for Seacrest's side." Hardy says that the investigator failed to contact four witnesses she had provided who could corroborate her story.
Her story began in 2007, when Seacrest's assistant helped her get a job as his stylist. At the time, Seacrest was the host of American Idol (a role he is currently reprising). Almost immediately, Hardy says Seacrest began to ask her to be with him at strange times, such as when he was at home (to tie a tie for him) or on the set of American Idol, where he had another stylist.
Hardy began to suspect that Seacrest's interest in her wasn't platonic and she says she spoke to his assistant about her concerns. Hardy says the assistant suggested she bring her young daughter with her to Seacrest's home as a form of protection, according to Variety. By the end of her first year working with Seacrest, she claims his assistant regularly told her that Seacrest had a crush on her.
According to the letter Hardy wrote in November, Seacrest's behavior became physical. In 2007, while wearing only his underwear, he allegedly wrapped her in a "bear hug" and didn't let go until his assistant walked in. Hardy claims in the letter that Seacrest hugged her in his underwear more than 10 times while she worked for him.
A year later, Hardy says Seacrest slid his hand under her crotch and then quickly asked her if she was going to sue him. A former co-worker of Hardy's told Variety that Hardy described the incident to him at the time that it allegedly occurred. He also alleges that he saw Seacrest push Hardy's head into his crotch while she was tying his shoes more than once.
The same co-worker also described two other alleged incidents he witnessed, including one where Seacrest, with a visible erection, grabbed Hardy and threw her onto a bed in his hotel room. Both Hardy and her co-worker allege that Seacrest then climbed on top of her and began rubbing his erection against her, saying he stopped only when the co-worker yelled at him.
The incident Hardy described as the most egregious allegedly took place in 2010. At the time, Hardy was dating an entertainment attorney. According to the letter she wrote in November and interviews with Variety, Seacrest asked her about the relationship, saying "Have you f–cked him yet?"
When Hardy replied not to ask her questions like that, she says Seacrest reached down and tightly grabbed her vagina. She ran to a bathroom in tears, and says a production assistant approached her and offered to walk her to human resources, but warned her that she'd probably be fired if she reported Seacrest's alleged misconduct.
Two co-workers, a friend, and two business associates all corroborated Hardy's version of the story, saying she told them about the incident at the time it took place.
Hardy's employment ended in 2013 when she was called into human resources and asked to describe the nature of her relationship with Seacrest. "I was very proud to say 'No, I don't [have a physical relationship with Seacrest],'" Hardy told Variety. "I never touched him, I never kissed him, I never f–ked him, nothing. But I said, 'But he touched me.'"
Two weeks later, Hardy says she was informed her employment would be terminated one week later.
Hardy left the entertainment industry and now works for a tech company in the Bay Area. She says she was inspired to go public with her story after reading news coverage of the #MeToo movement.
"I came from a freelance life, and it was scary," she says. "It was hard to raise a child and not know where your next check was going to come from, and if that gig was going to take me out of town for two weeks. It was a better deal all the way around, even if I was being abused. It's sick to say, but it was true."
This article was originally published on