This 6-Year-Old Made $11M On YouTube Last Year
by Meredith Bland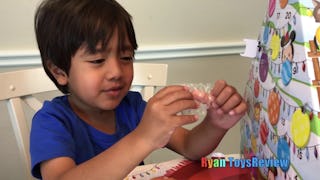 Image via YouTube
Ryan made $11 million last year
Remember first grade? Those magical days of juice and crackers, eating paste, and making more money then you could ever use in a lifetime. Or maybe that's just six-year-old Ryan of the YouTube channel Ryan ToysReview who, according to Forbes, made $11 million last year, putting him 8th on their list of the world's top ten YouTube earners.
For those of us who are firmly in the "old fart" category (myself included), being a "YouTuber" still sounds like a made-up job. It sure can pay the bills, though; in fact, being a popular YouTuber can make your family financially secure for generations to come.
Forbes first started making a list of the highest-paid "YouTube stars" in 2015, when Swedish gamer PewDiePie held the top spot with $12 million in earnings before taxes. This year, that spot went to 26-year-old gamer Daniel Middleton (known as DanTDM on YouTube) who made $16.5 million last year. And making the list for the first time is Ryan, a toy-reviewer who has over 10 million subscribers and will never have to work a day in his life (which I'm sure is a huge load off his mind. I mean, hoo boy, that retirement planning…am I right, Ryan?)
Ryan's parents created his popular channel just two years ago, in March of 2015. It had humble beginnings, as we see from this line from an article about Ryan in The Washington Post: "When his family started recording and posting the videos…the 3-year-old barely had any views let alone reviews…In his first video, he simply opened a Lego box, set up the blocks, and played with them." No page views and just playing with Legos? Don't waste my time, toddler.
The idea of making toy-review videos came from a then-3-year-old Ryan, who was a fan of other toy review channels on YouTube. In an interview with TubeFilter, Ryan's mother said: "One day, he asked me, 'How come I'm not on YouTube when all the other kids are?' So we just decided — yeah, we can do that."
In my day…up a hill to school both ways…newspapers for shoes…fought over the family chair…etc etc etc. Still, I can't help but feel like the fact that a six-year-old child has YouTube videos going up nearly every day of him playing with toys, that that page had about 8 billion views last year, and that he makes approximately a million dollars a month for all of this, is insanity.
It is, however, an insanity that continues to grow, as does the wealth of the highest-paid YouTube stars. According to Forbes, the YouTubers on their top ten list made a combined $127 million dollars last year "before management fees and taxes." In 2016, the top ten made $70.5 million, meaning total earnings in that group have gone up 80% in just the past year.
Ryan, I hope your great-great-great-great-great-great-great grandchildren enjoy their free college educations.