Man Allowed To Stay On Flight After Yelling Racial Slurs At His Seatmate
by Julie Scagell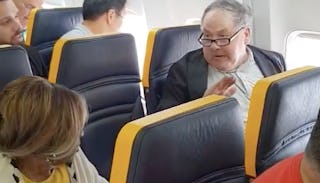 Image via YouTube/David Lawrence
This old white man hurls insult after insult at his elderly black seatmate
There are boycotts, disgust, and demands for action against Ryanair, a Dublin-based budget airline, after a vile instance of overt racism over the weekend. A man berated an elderly black woman and shouted racial slurs at her because he refused to sit next to her on the plane. To make a terrible situation even worse, the airline didn't even ask him to change seats, let alone get off the flight.
U.K. resident David Lawrence was on a Ryanair flight from Barcelona to London last Friday when the incident occurred and got video of the entire appallingly awful exchange:
In the video, the man can be heard hurling racial insults at fellow passenger Delsie Gayle, threatening to "push" her to another seat if she didn't move. When she tries to talk to him, he yells, "Don't talk to me in a foreign language, you stupid ugly cow."
Gayle's daughter fired back at the man for yelling at her mother, asking him to "give her a chance!"
Her daughter told The Huffington Post the whole thing started because her mother, 77, has arthritis and "took some time standing up from her aisle seat to allow him to access his window seat."
"I don't know how to go forward or where to take this," her daughter said. "I'm not even sure what I want done to resolve the situation, beyond an open apology to my mother for the way that the things were handled."
Her daughter says, "The underlying reason behind the man's abusive behaviour comes down to the fact that my mum is a black woman and he didn't want her sitting next to him – he says it in the video."
For her part, Gayle is stunned by the man's horrifying behavior. "I feel really depressed about it," she says. "I travel a lot and nobody ever said this word to me."
Nothing was done at the time — this man wasn't taken off the flight, he wasn't arrested — in fact, she was asked to move seats so the situation could be resolved. As the confrontation escalated and others tried stepping in to help the woman, the man called her an "ugly black bastard."
This was Ryanair's response:
So far, they haven't contacted Gayle or her daughter to apologize for what happened on the flight.
No. Just, no.
He also threatened the woman with violence: "I'll tell you this," he continued. "If you don't go to another seat, I'll put you into another seat."
"I know that if I was behaving like he was or any other black person, for that matter, police would've been called and we would've been kicked off of the flight," her daughter told Huffington Post. The daughter also said they were on the trip so her mom could get away for a few days, as it was the one year anniversary of her dad's death. They'd been married for 50 years.
This horrific abuse needs to be addressed in a meaningful way by both law enforcement and Ryanair. Because as Gayle told ITV News, "He do it with me and he gets away, he'll do it to somebody else."
This article was originally published on