There's A Crayola Nail Polish Line, And You're Going To Want It All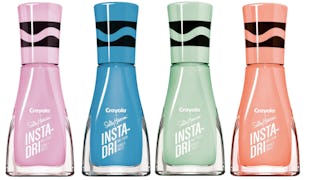 Image via Sally Hansen
Sally Hansen + Crayola = ultimate dream team.
Have you ever wanted to incorporate your child's crayon collection into your everyday fashion wear? No? Well, get ready to have your mind changed immediately. Sally Hansen teamed up with Crayola to create a nail polish line that will literally make your fingernails look like crayon colors. And yes, I promise that's actually a good thing.
There's six shades to choose from in the Sally Hansen x Crayola's Spring Fling collection, and they're all soft, pastel, and will make you feel like you're headed to the first day of school all over again. Also, they're deemed Insta-dri which means they're super fast drying and 30% more chip resistant. So, yes, that means you can say goodbye forever to nail polish-induced rage blackouts.
Look how pretty.
First up, we've got the Sally Hansen x Crayola in Sea Green ($3.96). You will feel like a mermaid. Guaranteed.
Then there's Sally Hansen x Crayola in Melon ($3.96), which is probably the least obnoxious shade of orange out there.
Paint your nails Sally Hansen x Crayola in Sky Blue ($3.96) and you can pretend that spring has actually arrived (lol yeah right).
Yes, you can definitely rock Sally Hansen x Crayola in Canary ($3.96). It'll be a bold move, but a good move.
Or, stick to the basics with Sally Hansen x Crayola in Wisteria ($3.96).
Sally Hansen x Crayola in Cotton Candy ($3.96) is the pinkest of pinks and will make you want to eat an entire tube of cotton candy immediately. Not the worst side effect to have.
If you're still not convinced by this whole crayon box/nail polish combo, take a gander at the colors in action.
https://www.instagram.com/p/BhLRdxSlJ_9/?tagged=sallyhansencrayola
Now, go get your crayon nails on ASAP. This will probably be the first and last time you'll ever want to match with your child's school supplies.