Salmonella Outbreaks Are Here To Ruin Summer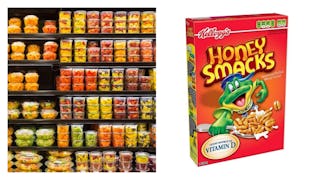 Image via Getty/littleny/Twitter/CDC
Nationwide salmonella outbreaks are linked to pre-sliced melons and Kellogg's cereal
Both the Food and Drug Administration (FDA) and Center for Disease Control (CDC) are issuing warnings to consumers all over the country of a huge salmonella outbreak this summer.
First up on the Do Not Buy list: melons. Pre-sliced cantaloupe, watermelon, and honeydews in 23 states could potentially be contaminated with salmonella, the FDA reports. Approximately 60 people became ill from this particular outbreak from April 30 to May 28. Pre-sliced melons sold at retailers such as Walmart, Kroger, Walgreens, Sprouts Farmers Market, Costco, and Whole Foods/Amazon have all been recalled by the FDA (see the full list here).
Sure, it might seem easy to avoid buying pre-sliced, packaged melons. But if you're anything like me (a disaster with a kitchen knife), slicing watermelons and cantaloupes isn't the most fun task. Especially if you're running late to the neighborhood picnic and didn't have time to dice up enough melons to feed 50 people — you buy them, ready to go, the day of.
Not this year, that's for sure.
Another salmonella outbreak — causing illness in 73 people across 31 states — is being linked to Kellogg's Honey Smacks cereal, according to the CDC. All 15.3-ounce and 23-ounce packages with expiration dates ranging from June 14 2018-June 14 2019 are being recalled.
Salmonella is a bacteria that makes people sick via an infection called salmonellosis. According to the CDC, most people infected with it develop diarrhea, fever, and abdominal cramps between 12 and 72 hours after infection. The illness usually lasts 4 to 7 days, and most individuals recover without treatment.
In some cases, though, symptoms may be so severe that the patient needs to be hospitalized. In these patients, the infection may spread from the intestines to the bloodstream, and then to other body sites. When this occurs, salmonella can cause death unless the person is treated promptly with antibiotics. Salmonella is to blame for 23,000 hospitalizations and 450 deaths every year in the United States.
Please, check your produce and your Kellogg's cereal if you've purchased either of these items recently. If you've got either of these items in your fridges or cabinets, it's recommended you throw them away. And keep checking the FDA.gov and CDC.gov for updated information regarding these outbreaks.