'Misinformation Killed Her': 29-Year-Old Bride-To-Be Dies Of COVID
by Julie Scagell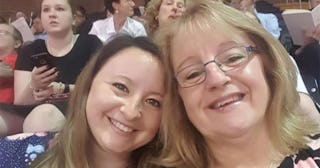 Doug Dorgan/GoFundMe
Wendell was misinformed about the vaccine's impacts on fertility
Bride-to-be Samantha Wendell died of COVID-19 weeks after she was set to walk down the aisle. Her family is now urging anyone who reads her story to get vaccinated as soon as possible.
Wendell and her fiancé, Austin Eskew, met in 2010 at their college orientation at Olivet Nazarene University and were engaged in 2019, according to The Washington Post. The couple was deep into wedding planning with a date to be wed on Aug. 21, 2021, at a church in Lisle, Ill., and planned to start a family soon after. Sadly, their wedding date came and went with Wendell being placed on a ventilator and battling COVID in the ICU. She died on September 10th at age 29.
"Please consider getting vaccinated for I would never want any family or friends to endure what is happening to my niece right now and to her family and friends," Wendell's aunt Denise Picicci posted on Facebook before she died. "No one can visit, no one to hold her hand and talk to her and give her encouragement to fight this."
According to family, Wendell wanted to have kids and heard the misinformation that the coronavirus vaccines could affect her ability to get pregnant. Initially, she put off getting vaccinated, her family members told NBC News. But then the surgical technician had a change of heart and scheduled a vaccine appointment for the end of July. Unfortunately, it was too late. Both she and her fiancé tested positive for the virus and Wendell was hospitalized when her symptoms didn't improve. Neither had any underlying health conditions.
"Saying goodbye to a loved one via FaceTime isn't anything I want anyone else to have to experience, yet, so many of us continue to experience this painful loss and too many that have come before us," Maria Vibandor Hayes, Wendell's cousin, wrote in a Facebook post the next day. "Misinformation killed her."
Misinformation about the vaccines and infertility have been prominent on social media. According to the CDC, only 25 percent of pregnant Americans have received at least one shot of the vaccine. The organization said there is no evidence showing that the coronavirus vaccines cause fertility problems. "CDC encourages all pregnant people or people who are thinking about becoming pregnant and those breastfeeding to get vaccinated to protect themselves from COVID-19," they said on their website.
"Samantha loved her job as a surgical technician and she rescued and raised numerous pets. She loved Christmas and elaborate decorations for all the holidays, as well as surprises," her obituary read. "Samantha loved her time…hanging out with her many friends. Samantha had a heart of gold."
"If we can save more lives and families' lives," Vibandor Hayes said, "then this is the gift that she left for us to deliver."