More Than 100 San Diego Students, Staff Quarantined Just 2 Days After Resuming Classes
by Julie Scagell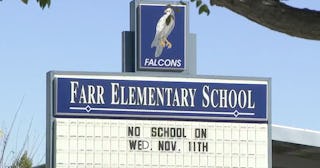 Fox 5
The outbreak happened in four schools in the district
Just two days after the Escondido Union School District in San Diego returned to an in-person hybrid learning model, 81 students and 18 staff members at four separate K-8th grade campuses are being required to quarantine.
Even with students divided into cohorts and attending school in-person on different days, the outbreak took just two days to necessitate another pause. According to the district's superintendent, however, this is not unexpected.
"Any time you get one case, of course, it's alarming," Superintendent Luis Rankins-Ibarra told NBC 7 San Diego. "But we've got protocols in place and the quarantines occur as a precautionary measure."
Escondido Elementary Educators Association president Romero Maratea said the quarantines do raise concern about the relative safety of reopening schools at this point in the pandemic.
"Our concerns about reopening now, which we expressed to the school board and superintendent, were primarily a result of the prevalence of the virus in Escondido as compared to other areas of the county," Maratea wrote in an email to NBC 7. "The numbers have spoken for themselves."
Escondido Union schools aren't the only school that have seen shutdowns and quarantines after in-person learning resumed. Just ten days after bringing K-2 students back for in-person learning in mid-January, an outbreak among transportation workers forced Bloomington Public Schools in Minnesota to go back to distance learning until at least mid-February. This case highlighted the challenge to protect bus drivers, many of whom are older and at high-risk if they contract the virus.
"Our prioritization is in fact those 65 and older," Rick Kaufman, a district spokesperson who is also in charge of emergency management, said. "Because our drivers and aides are often older, retired individuals that are looking for supplemental income, they are most at risk based on their age. Yes, they've been our priority group."
Under new public health guidelines, the quarantines for Escondido will last ten days.
"Our city struggles with a high case rate, and our community includes many multi-generational families. This makes for a challenging environment," Superintendent Rankins-Ibarra said. "It is unfortunate that individuals still come to campus while they are awaiting Covid test results or after having close contact with someone who is positive, or while they are feeling ill."
On Friday, San Diego County's Health and Human Services Agency reported its first pediatric COVID-19 death, CNN reported. The deceased was a 10-year-old boy with underlying medical conditions, officials said.
As schools grapple with the decision to resume in-person learning depending on county COVID-19 numbers and teachers line up to receive COVID-19 vaccinations, this will not be the last time we see schools shutting their doors after reopening.
This article was originally published on