San Francisco Wants To Let 16-Year-Olds Vote — And It's On The Ballot This Year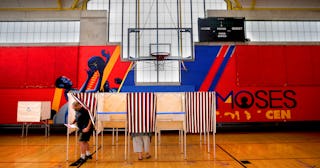 Lane Turner/The Boston Globe via Getty Images
One of the goals is to create life-long voting habits — sooner rather than later
San Francisco residents will be going to the polls in November — not only to vote for our president for the next four-to-eight years but whether the city should allow 16 and 17-year-olds to vote in local elections.
If it passes, San Francisco will become the first major American city to grant the right to vote in municipal elections to those under 18. NBC News reports that the concept was originally introduced in 2016 and narrowly failed to pass with 48 percent of the vote. The goal is to get youth to think about what's happening in local government from an earlier age which may translate into them becoming active voters in the future.
"I really think that Vote 16 will help youth of color in San Francisco establish the habit of voting at an earlier age, and really provide them with the support and the resources that they need to continue building on that habit as they grow older," Crystal Chan, an 18-year old organizer for Vote 16 SF, told the outlet.
San Francisco may be the first major city if the bill passes, but not the first city in the U.S. to join the initiative. Takoma Park, a suburb in Maryland, has allowed 16 and 17-year olds to vote in local elections since 2013 and say they've seen positive results in youth turnout.
"Research is clear on this, that voting is a habit. And 16 is a better time than 18 to establish that habit," Brandon Klugman, Vote 16's campaign manager, told NBC News. "Our motivation here first and foremost is to make sure that we put new voters in a position to establish that habit in the first election they're eligible for, and then to continue participating throughout their lives which is good for democracy on every level."
The initiative also has interest at a federal level. Congresswoman Grace Meng, D-NY introduced a constitutional amendment in 2018 to lower the voting age nationwide to 16. "I'm always inspired by our nation's youth who have demonstrated wisdom, maturity and passion on issues like social justice, gun control, and climate change," Meng said in a statement (via The Hill). "They are the leaders of our future and the decisions we make impact their lives every day. To capture their views and experiences, we must lower the voting age to 16 in all elections."
Vote16.org's reasons for wanting the bill passed are simple and they make a lot of sense. Lowering the voting age can lead to a long-term increase in voter turnout and helps strengthen civil education. Plus, teens are impacted by political issues and the age group is ready to vote and "have the necessary civic knowledge, skills, and cognitive ability to vote for their futures."
Kids this age can legally drive a car, join a trade union, join the Armed Forces with parental consent, get married (in most states) and work, so why not have a say in their elected officials as well?