There's A 'Sandlot' Reunion Coming And It Stars The Entire Original Cast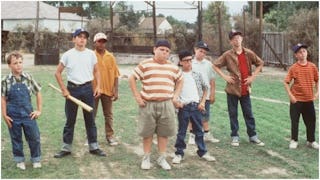 Image via 20th Century Fox
The whole cast of Sandlot is coming back for a new TV series
You're killing us Smalls, because this is the best news to hit the internet in a loooong time. There's a Sandlot reunion coming to the small screen and it involves the entire original cast – plus hopefully The Beast. Grab your baseball bats and your childhood crush on Benny (no, just me?) because this is about to get so good.
David Mickey Evans, who wrote and directed The Sandlot and its sequel, made the announcement during an interview with The Rain Delay podcast last week. "I already got all the original cast members back," he said. "It takes place in 1984, when they're all like 33 years old and they all have children of their own, and that's all I can tell you."
The series has been purchased for two seasons, though Evans won't reveal who the buyer is just yet. "I know who's going to stream it," he said. "It doesn't take a genius to figure that out right now." Okay, cool. Can't wait to binge it all on Netflix.
The entire gang reunited last year for the film's 25th anniversary and there was a whole lot of nostalgia going around. They sat down with The Today Show and recounted just how much fun they all had making the movie.
"The film was made with the same amount of love that people have for it, and it was the greatest summer of our lives," Evans said. Patrick Renna (Ham) added: "Seeing these guys, some of them I haven't seen in 25 years, but it is just like we're back." The group posed together on a field, mitts in hand, and be still my childhood heart.
Also, the guys are still reaping the benefits from their days on the baseball field, all these many, many years later. "I mean, it definitely gets you in places for free," Marty York (Yeah-Yeah) said. "I can't walk through a Las Vegas casino without someone yelling 'Yeah-Yeah!'"
The whole crew also sat down with The Hollywood Reporter and recounted some of their favorite lines (which included: "Bake him like a toasted cheeser" and "Hurry up! My clothes are going out of style!"). They also noted that they snuck into a screening of Basic Instinct when it first came out and, you know, fair enough.
Impatiently counting down the days until this reunion is released. Squints, Smalls, and the rest of those legends will never, ever die.