Sandra Bullock Nails Why We Should Stop Using The Term 'Adopted Kids'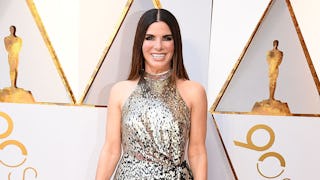 Image via Steve Granitz/WireImage
Bullock brings up good points about why we don't need to describe kids as "adopted"
Sandra Bullock has long been one of everyone's favorite actors and celebrities. Bullock, who is mom to son Louis and daughter Laila, recently opened up about why she wishes we'd stop using the term "adopted kids," and her reasoning will make you love her even more.
While promoting her latest movie, Oceans 8, Bullock opened up to InStyle about her own motherhood experience. She's been active in promoting adoption and foster care — she adopted her daughter through foster care. Both of her children were born in New Orleans.
When asked whether she thinks the adoption and foster care system is improving in the United States, Bullock became understandably emotional. "I'm all for Republican, Democrat, whatever, but don't talk to me about what I can or can't do with my body until you've taken care of every child who doesn't have a home or is neglected or abused," she says. "It makes me teary-eyed."
She also brings up an excellent point about how we talk about children once they've been adopted into a loving family. "Let's all just refer to these kids as 'our kids,'" she says. "Don't say 'my adopted child.' No one calls their kid their 'IVF child' or their 'oh, shit, I went to a bar and got knocked up child.' Let just say, 'our children.'"
When you think about it, it probably doesn't feel great for either parent or child (celebrity or not) when others refer to them as "adopted children." If we all referenced our children in the tongue-in-cheek way Bullock describes, then my daughter would be my "conceived via Metformin, an insulin-regulating medication that helps keep polycystic ovarian syndrome symptoms in check" child.
Let's all just agree that our kids are our kids, no matter where they were born, how they were born, or by what means they ended up in our arms.