Sandra Bullock's Speech To Her Kids About Finding Your Family Will Give You All The Feels
by Madison Vanderberg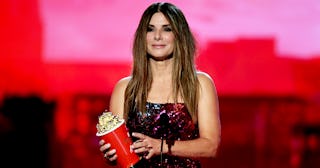 Kevin Winter/Getty
Watch Sandra Bullock's moving speech about family at the MTV Movie & TV Awards
On Monday, June 17, 2019, Sandra Bullock took home an MTV Movie & TV Awards statue for "Most Frightened Performance" in her hit Netflix film Birdbox. In the film, Bullock plays a woman who gives birth in the midst of the apocalypse and then goes on a harrowing journey to safety with her son and another's woman's daughter that Bullock is raising as her own.
Bullock first joked that she couldn't believe Netflix let her make an "educational video on the horrors of parenting," but then got real and said that her two children — Louis and Laila — asked her to make a movie for them, and she knew that Birdbox was that movie.
Bullock's character's journey in the film echoes Bullocks own life as the actress not only adopted both her children, but did so as a single woman. On Monday night she spoke directly to her children when she accepted her award.
"I wanted you to see what being a family looks like," she told her kids in her acceptance speech. "That sometimes you're born into a family, sometimes you need to go find it, sometimes it finds you."
"But no matter how it comes together, that when it does, family is what you fight for, family is what you protect and what you saw in that movie is what your mommy would do for you," Bullock added. "No matter what, you are my first thought in the morning, you are my last thought at night. I was put on this earth to protect you, you are my world, I love you so much, and I will move mountains to make sure that you are safe."
Bullock has echoed this sentiment before. Despite being one of Hollywood's biggest stars, Bullock says she doesn't "work that much anymore," if that's what it takes to prioritize her kids.
"Everything is about them being OK, being in school, having what they need, their moments," she told Today in 2018. "I need to be there for every single moment that they have. It's harder for me to leave them than I think it is for them when I leave. I don't leave that much, and I don't work that much anymore either. So my priorities are my kids, my kids, my kids. My family. My family. That's it."
Bullock is also adamant that people stop referring to her kids as her "adopted kids," and told InStyle, "Let's all just refer to these kids as 'our kids.' Don't say 'my adopted child.' No one calls their kid their 'IVF child' or their 'oh, shit, I went to a bar and got knocked-up child.' Let just say, 'our children.'"
To her, family is just family.
"My family is blended and diverse, nutty, and loving and understanding. That's a family," Bullock told People in 2015.
As for the awards show speech, Twitter is loving it. The reactions range from "Sandra adopt me!" to "She deserves all the love in the world."
https://twitter.com/jetpack/status/1140814347939090432
She capped her speech by joking that when her son asked her to make a movie for them, he meant "a superhero movie," and lol. That being said, Bullock's character is literally a superhero in Birdbox, so she still wins.