She Lost Her 6-Year-Old In A School Shooting: 'After The Fog, I Had To Do Something'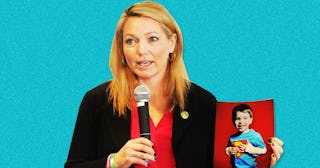 Scary Mommy and Patrick Whittemore/MediaNews Group/Boston Herald/Getty
Nicole Hockley's son, Dylan, was a six-year-old first grader with huge blue eyes, a sing-songy voice, and an infectious laugh. Dylan adored his older brother, Jake, and loved to play Nintendo Wii with him. He knew every word to The Gruffalo. A boy of autistic opposites, he loved roller coasters, but hated lines; loved lightning, but loathed thunder. Dylan loved the moon.
Dylan was murdered on December 14, 2012 when a gunman opened fire at Sandy Hook Elementary School, killing 20 children and six adults. But, Hockley tells Scary Mommy, a month after Dylan's death, "after the fog, I had to do something." She didn't want this to happen ever again: No more lost children, no more needless dead, no more grieving mothers. So Sandy Hook Promise was formed, an organization dedicated, in the beginning, to policy: mandatory universal background checks for all gun owners.
But Hockley's Policy Efforts Didn't Work
They were told immediately that they "were entering into one of the most divisive and worst areas of government politics and lobbying." Everyone said universal background checks were "the low-hanging fruit… with bipartisan support." She met with so many senators that she lost track, especially those who said they were going to vote no or were undecided. But eventually, then-Vice President Joe Biden announced that they didn't have the votes to pass their bill.
Saddled with a crushing feeling of defeat, Hockley was afraid that her desire to make something positive and transformative from this tragedy would go away. "But sometimes," she says, "you need a failure to spur you on for the win."
Sandy Hook Promise Took Another Turn
During a meeting, an FBI characterized Sandy Hook as a "typical school shooting," and Hockley says she nearly lost it. He said all the signs "of potential violence that the shooter had detailed throughout the years," were there, but they didn't have enough resources to teach everyone to recognize signs of a potential shooters. This was Hockley's aha moment, and where Sandy Hook Promise became something more than an organization against guns. They would focus instead on preventing the violence. They wanted to teach people, and kids in particular, how to recognize the signs of someone at risk — and then help them before they reached the point of picking up a weapon to hurt themselves or someone else.
"We made a conscious decision not to focus on guns, but more on upstream violence," Hockley says. "Everything from bullying and isolation to sexual abuse and dating violence, self-harm, suicide, homicide, and school shootings as a way to teach kids to help each other."
They want to "teach kids to recognize kids who are at risk," she says, and teach kids to help each other. While they focus especially on grades six to twelve, they have programs that begin as early as kindergarten.
Hockley Explains The Policy Shift
"You have to start with what we agree with," she says. "You have to be for something rather than against it. And if we start from a place of fighting, then we're not really listening." Hockley elaborates that the more people can discuss, the more they can "take the heart and the head together" … and, consequently, are more likely to understand that this isn't about taking anyone's guns.
"This is about making sure that the people who have guns know how to store them safely," she says. "Know how to use them safely. Know how to ensure that their child, their depressed teenager, doesn't have get access to it to hurt themselves or or do a school shooting. Because all these school shootings, the guns come from within the home." Hockley makes very clear that Sandy Hook Promise isn't out to wrench the guns from people's hands.
Instead, the organization is about something everyone can get behind: saving kids, protecting kids, and working to make school shootings a thing of the past. They're doing that by implementing pro-social programs and reporting systems that help stop school shootings before they happen.
But They Haven't Left Their Legislative Agenda Behind
After eight long years, our political climate finally looks favorable for passage of the universal background check bill. It has wide support, and Democrats control both the House and the Senate. Sandy Hook Promise has been lobbying for the bill since 2013; it stalled two years ago in the Senate. But right now, Hockley says, there's no reason it won't pass.
"Contact Congress," she urges. "Demand the bill be put into law." She explains that it's not the start of a slippery slope, like some gun owners claim. Instead, "it's the start of ensuring the people who have access to guns are capable of having that huge responsibility." Guns are massive weapons, she points out, which should be handled by people with a history of nonviolence who are capable of wielding that awesome responsibility.
Sandy Hook Promise Programs
So far, Sandy Hook Promise has received 60K anonymous tips, protecting the lives of an estimated 240 kids. That's a heck of a lot of prevention going on. Hockley explains that they begin young with their "Start with Hello" Program, which reaches kids from kindergarten to twelfth grade. This program, according to the Sandy Hook Promise site, teaches kids to "recognize the signs of social isolation," "help others be included," and "break the ice and start a conversation."
But Hockley says they concentrate the majority of their efforts on sixth through twelfth graders, who are most at-risk. For this age group, they implement a program called Say Something, which "teaches middle and high school students to recognize the warning signs of someone at-risk of hurting themselves or others and how to say something to a trusted adult to get help." They also run a Say Something Anonymous Reporting System, which works with local law enforcement and schools for students to report suspicious activity.
All of these programs are free, and available for districts, classes, and individual use.
It shouldn't take another tragedy to finally enact policies that keep our country – and our kids — safe from mass shootings. And parents like Nicole Hockley are working tirelessly to ensure that what happened to her child never has to happen to anyone else's.
This article was originally published on