Sandy Hook Promise Releases Chilling Back-To-School PSA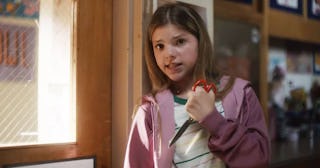 Sandy Hook Promise/Youtube
Sandy Hook Promise's latest PSA depicts kids using school supplies to help them survive a shooting
Advocacy group Sandy Hook Promise released a new PSA this week in honor of the back-to-school season — but its message is a chilling one.
The video starts off with kids cheerily showing off their new school supplies and explaining why they'll come in handy this year. The tone quickly changes, though, and soon students are deploying their gear to help them survive a school shooting. Please be warned that this video is upsetting and depicts a school shooting:
A boy shows off his new backpack, a girl displays her binders, another boy notes that his new headphones will help him study.
And then, all hell breaks loose.
A boy runs down the hallway saying, "These new sneakers are just what I needed for the new year." A young girl calls her new jacket "a real must-have" as she uses it to close a set of gymnasium doors.
"These new socks? They can be a real lifesaver," says a child using hers as a tourniquet on a wounded classmate. Another student uses his new skateboard to break a window in an attempt to escape the mayhem.
The PSA ends on a completely gut-wrenching note. A girl hides in a darkened bathroom, texting her mom to tell her she loves her. "I finally got my own phone to stay in touch with my mom," she says through tears. Then, the sound of a door opening and footsteps. If you're not gutted by the conclusion, I don't even know what to say. This is the reality our children face daily — the possibility of tragedy happening at the place where they're supposed to be safest of all.
It's.. a lot. And that's the entire point — Sandy Hook Promise has released several similar PSAs in recent years including the incredibly powerful "Evan" that showed just how easy it is to miss the signs of a mass shooter.
Noticing the signs of a child who might turn to violence is the mission of Sandy Hook Promise. Their latest clip is part of their "Know the Signs" campaign that aims to educate kids, parents, and teachers about what to watch for so they can hopefully intervene before tragedy strikes. Signs can include an obsession with firearms and violence, overreaction and aggression over minor things, social isolation, and talking about plans for ending their own life.
Sandy Hook Promise was formed after the horrific 2012 shooting that took the lives of 20 first grade children and six staff members at Sandy Hook Elementary School. In their honor, the group hopes for change. "By uniting people of all beliefs and backgrounds who value the protection of children to take meaningful actions in their homes and communities, we will prevent gun violence and stop the tragic loss of life."