Court Ruled That A Gun Manufacturer Can Be Sued Over Sandy Hook Shooting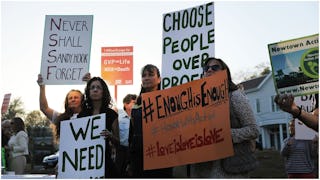 Image via Spencer Platt/Getty
The court ruled that gun manufacturer can be sued over the Sandy Hook massacre
Families of nine victims in the Sandy Hook massacre in Newtown, Connecticut have been fighting hard to hold the fire arm industry accountable. Now, they've finally got a legal victory on their hands. The Connecticut Supreme Court ruled that the families can move forward with suing Remington, the manufacturer that made the semiautomatic rifle used in the school shooting.
This is a huge step forward for everyone involved. When the families first attempted to sue Remington, their lawsuit was dismissed by a lower-court judge, who said they didn't have a legal right to sue the company. Moving forward, the families are focusing on Remington's "truly unethical and irresponsible" marketing which encouraged customers to "carry out offensive, military style combat missions against their perceived enemies."
The Supreme Court overruled the lower-court judge and passed their ruling 4-3. "The regulation of advertising that threatens the public's health, safety, and morals has long been considered a core exercise of the states' police powers," Justice Richard Palmer wrote on behalf of the majority.
Gun control advocates took to Twitter to applaud an important legal victory, pointing out that this could force the gun industry to actually be held accountable for their messaging.
Families involved with the lawsuit expressed their gratitude that they can finally move forward with their case. "I am thrilled and tremendously grateful. No one has blanket immunity," Nicole Hockley told The New York Times. "There are consequences. We want our day in court to see why they do this this way, and what needs to change." Her 6-year-old son Dylan was among the 20 first-grade children killed during the school shooting,
Ian Hockley, Dylan's dad, added to CNN: "I can't say I was excited by this ruling. I wish it was never here, but what we've said from the onset is all we want is our day in court, for the law to be upheld and for a jury to decide our case. "
Attorney James Vogts, who represents Remington, pushed back against the lawsuit, saying that the manufacturer is not legally responsible for the actions of the shooter. However, the families plan to argue in court that the company's advertising promoted violent messaging that ultimately led to the death of 26 innocent victims.
After all, marketing for the AR-15-style Bushmaster used in the Sandy Hook shooting used slogans like, "Consider your man card reissued." Lawyers for the families argue that this kind of violent messaging directly appealed to young men like Adam Lanza.
Whether they win the lawsuit or not, this ruling could be a massively important step in the right direction.
"This blockbuster decision is really a 'wow' moment in American legal history," Connecticut Sen. Richard Blumenthal tweeted. "It will seismically shift the legal landscape for gun violence victims."