Students Armed Themselves With Scissors During Yesterday's School Shooting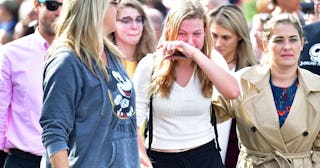 FREDERIC J. BROWN/Getty
Students at Saugus High School armed themselves with scissors
As the U.S. witnessed yet another school shooting yesterday, this time at Saugus High School in Santa Clarita, more details are emerging about the harrowing experiences of those in the gunman's path.
Two students were killed and three others were injured after a 16-year-old assailant, who is a student at the high school, pulled out a handgun from his backpack and opened fire in the quad, shooting five students nearby and then shooting himself in the head. He survived and is currently being treated at a local hospital.
Kaitlin Holt, a choir teacher, told the local ABC affiliate that students ran into her classroom as shots rang out on campus. One of them was a girl who appeared to have been shot on the side of her abdomen and shoulder. "She was hanging outside my room when everything happened and they ran into the class," said Holt. "She was really strong and she was great. She was joking with me saying, 'I'm going to be homeschooled after this.'" Imagine this being such a common occurrence in our country that kids are able to joke while still bleeding from a gunshot wound (she was shot three times).
"All of a sudden my best friend, Ellie, taps me on the shoulder and she's like, 'We need to get down,'" another student, Amber Miller, told NBC. "The lights turn off and I'm just sitting there thinking, Oh my god, this is happening." She said students nearby moved tables and chairs to block the door while others grabbed scissors in case the gunman fought his way into the classroom.
According to the Gun Violence Archive, there have been 366 mass shootings in 2019. According to Everytown For Gun Safety Support Fund, there have been 84 incidents of gunfire on school grounds in 2019 alone, 30 of which involved mass shootings or incidents where a student was preparing to attack their peers or teachers.
During this attack, a 15-year-old girl and a 14-year-old boy died at Henry Mayo Newhall Memorial Hospital from their injuries. On Friday morning, coroner's officials identified the girl as Gracie Anne Muehlberger, the LA Times reported. It happened so fast there was no one able to try to stop the shooter. "Within approximately 16 seconds, it was over," sheriff's Capt. Kent Wegener said.
"I hate to have Saugus be added to the names of Columbine, Parkland, Sandy Hook, but it's a reality that affects us all throughout the nation, something we're going to have to deal with," Sheriff Alex Villanueva said at a news conference after finding out that the second student had died.
Vice President Mike Pence spoke to reporters yesterday, saying in part, "To every American, and every one of you gathered here, we say, this President and this administration will remain resolved to bring the scourge of mass shootings to an end and we will not rest until we end this evil in our time and make our schools and our communities safe again."