Family Of Santa Fe Victim Sues Shooter's Parents For Wrongful Death
by Julie Scagell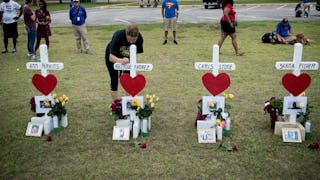 Image via Getty Images/ BRENDAN SMIALOWSKI/AFP
The father of the Santa Fe gunman said his son likely got the guns from his closet
Ten people were killed during a school shooting at a high school in Sante Fe, Texas on May 18th, making it one of 23 school shootings so far this year. The alleged shooter, 17-year-old Dimitrios Pagourtzis, was apprehended and taken into custody. As details emerged in the following weeks, investigators found that Pagourtzis was able to obtain the guns he used in the shooting from his parents' house because they weren't stored properly; and now the family may be paying the price.
The family of shooting victim Christopher Jake Stone filed a lawsuit against Pagourtzis' parents this week, claiming they didn't safely secure their guns and are therefore responsible for gross negligence, CW39 Houston reported, as well as the wrongful death of their son. According to reports, the gunman used his father's legally owned shotgun and revolver during the shooting.
Stone was one of 10 students who lost their lives that day. He was in his junior year and was a center on the school's football team. He was a "nice, outgoing kid," 17-year-old Aidan Gomez told BuzzFeed News. "He was down-to-earth, and liked football, to hang out with friends, and relax."
Texas is one of 27 states — along with the District of Columbia — to have laws around child access prevention. These laws are aimed to reduce firearm injuries and deaths, suicides, and violent crime among youths.
The laws vary state to state in severity, with some imposing "criminal liability when a minor is likely to gain access to a negligently stored firearm regardless of whether the minor actually gains access," Giffords Law Center reports. Others merely "prohibit certain persons, such as parents or guardians, from directly providing a firearm to a minor," and still others which "impose criminal liability for negligently stored firearms, but only where the child uses the firearm and causes death or serious injury."
Under Texas law, misdemeanor charges can be filed when a gun owner fails to properly secure their weapons and a child under 17 gains access, CW 39 Houston reports. Finding culpability after the fact does little for the victims of such tragedies, but perhaps it will force gun owners to examine their own responsibility more closely.
"Gun owners have a responsibility to store their guns safely," Adam Winkler, a professor at UCLA School of Law tells CW39. "Texas's laws, which impose liability after a shooting, are not as effective as laws requiring guns to be stored safely in the first place."
This is a problem of epidemic proportion in our country. In fact, more than half of gun owners don't safely store their guns, a survey done by the Johns Hopkins Bloomberg School of Public Health finds.
"A lot of data shows that the vast majority of school shooters and others … gain access to their weapons either at their parent's homes or that of another relative," Ari Freilich, a staff attorney with the Giffords Law Center to Prevent Gun Violence said. "There are a lot of important policy solutions that work together and try to make mass shootings less frequent and less lethal. And one key component of that is ensuring that parents … store guns responsibly."
This article was originally published on