Multiple Fatalities Reported In Texas School Shooting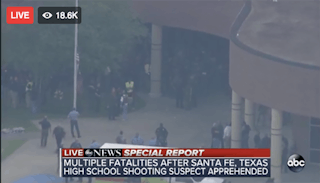 Image via ABC News
Gunfire broke out early this morning in a classroom at Santa Fe High School
At least eight people have reportedly been killed in yet another school shooting. Gunfire broke out this early this morning at Santa Fe High School, about 30 miles southeast of Houston. The shooter is reportedly in custody with a second person being detained as ambulances and law enforcement are on the scene.
Federal and county officials reporting to KHOU 11 News gave the details with an assistant principal confirming the shooter is believed to be a student. Sources at the scene report eight are dead with an unknown number of injured. According to CNN, Harris County Sheriff Ed Gonzalez said during a press conference that most of those killed were students. Witnesses report the suspect opening fire in an art classroom before 8:00 AM today. KHOU also reports students saying the suspect was throwing explosive devices into a classroom.
As of 9:45 AM, law enforcement was searching the school campus for other possible explosive devices. CNN later reported that explosive devices have been located at the high school and in "surrounding areas adjacent to the campus."
Helicopter views from KHOU show Life Alert helicopters, a mass casualty ambulance, and several other ambulances on the scene. Some victims have been taken to John Sealy Hospital in Galveston and others to Clear Lake Hospital.
The school district told KHOU that students are being evacuated to a nearby auto shop and also, an Alamo Gym on Highway 6 where parents can come get their kids.
The sheriff also reports that an ISD police officer has been injured and the search of the school is ongoing.
"As soon as the alarms went off, everybody just started running outside, and next thing you know, everybody looks, and then you hear 'boom, boom, boom.'"
We can't believe we're here again.
This article was originally published on