Every Parent Tired Of Moving The Damn Elf Needs This Lazy Gnome Instead
by Julie Scagell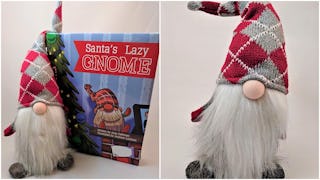 Image via Amazon
This gnome is peak laziness and we love him for it
If you've had an Elf on the Shelf for a few seasons, you know the magic fades with every new piece of furniture or lampshade you adhere it to. Sure, it's fun to fake your kids into thinking your elf is spying on their behavior and reporting all things back to Santa, but wouldn't it be nice if you could trick them without the stress of moving it every single night? Now, there is.
Allow us to introduce you to Santa's Lazy Gnome, designed by Julie DeForest — a mom who's had enough of the damn elf. She's created an adorably lazy version that sits on his ass and does nothing. Just the way we like it. But if he's always in the same spot, how will he ever check on the kids? Because he can see them from anywhere, that's why. He's a visionary, a ninja — and he doesn't even have any eyes. Brilliant!
According to the website, this lazy gnome was looking for something to do since the elves are busy making all the toys, so he decided to find a family and supervise the Naughty/Nice process for Santa. "These mysterious friends report to Santa if you're naughty or nice, even when you're out of sight," DeForest says. A direct line to jolly old Saint Nick and zero effort on parents' part – sign us up.
The best part? DeForest tells Scary Mommy her gnomes aren't hands-off. "We're delighted to find that we were allowed to actually hug our gnome," she told us one mom said. She also said she'll be offering a paperback version as the demand for these lethargic gnomes is off the charts.
We've had our elf, Pete, for almost a decade now. The first few years I was alllllll into finding the best hiding places and excitedly moved him every single night. He came out on Thanksgiving night and didn't leave until Christmas morning. Now, Pete's only here for the month of December (cut-backs at Santa's workshop) and he tends to stay in one place "because he's too tired to move" for days on end. Pete would meet an untimely death if it weren't for the fact that our youngest still adores him. But, he hasn't met the gnome.
Yet.
These little guys come in argyle, polka dot, and snowflake hats — one even cuter than the next.
DeForest is definitely on to something. She says she saw the frustration from other mom's and decided she did not want to clean-up or create late-night mischief for kids. An adorable gnome that doesn't move that kids can love up on and still makes them listen sounds too good to be true.
This article was originally published on