You Can View Santa's North Pole Cabin On Zillow, Because Of Course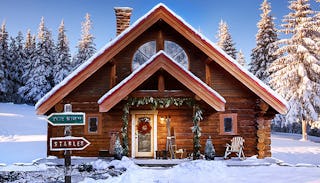 Image via Zillow.
Take a peek at Santa's adorable 2,500 sqft cabin
While our kids wait for Santa's arrival this weekend they can take a peek at his humble home in the North Pole. Thanks to the real estate website Zillow, kids can finally tour Kris Kringle's house and check out where the star of Christmas spends most of his time. We are really pushing this "get your kids to believe in Santa as long as possible" thing this year, aren't we?
The three bedroom, two bathroom, 2,500 square foot cabin is described as "a toy lover's paradise nestled on 25 idyllic acres at the North Pole – perfect for spirited reindeer games." Well, yeah, you definitely need that much space when you're running an illegal toy operation on your property. St. Nick's residence was built in the 1800s and made with beautiful old-growth timber, which means there is a shit ton of wood. There's so much timber you'll think, "really? We couldn't use any other material?"
Santa's compound is perfect for his Christmas responsibilities. "Over the river and through the woods is a state-of-the-art toy-making facility with workstations for 50 diminutive craftsmen," reads the full description from Zillow. That's the fancy way of saying underpaid elf operation. There's no photos of the toy shop so we don't really know if it is in fact state-of-the-art or if the elves are being treated fairly. We didn't find a Christmas Elves Union page or a GoFundMe demanding better wages so it's safe to assume Santa isn't the worst boss.
Zillow added: "Nearby are a garage, with space for Santa's all-weather sleigh, and stables that board eight live-in reindeer, plus a bonus stall for red-nosed company, eagerly awaiting Christmas Eve." We love Rudolph, but that just seems rude to give him a special stall. We doubt that's going to help him make more reindeer friends.
Zillow even provides a handy map to help you visualize the location.
Cute. Very cute.
See what I meant about the wood. And we get that red is the Christmas color but does every thing in the house have to be that color? Throw in some green and gold to liven the place up a bit. If you look closely at the fridge you'll notice that most of the cards that made it into Santa's home have a picture of him on the front. So now we know he's slightly narcissistic. It turns out that the guy taking credit for all the toys in the is a bit self-obsessed. The kitchen's big selling point is the oven that apparently has 12 different cookie settings. I keep my winter bod nice and round by eating those popcorn tins until my stretchiest leggings don't fit, but I get it, cookies are Santa's thing. You do you, Claus.
Mr. and Mrs. Claus surely have no trouble sleeping in the magical master bedroom that has sprawling mountain views. According to the list, the cabin mixes modern amenities with Old Warm charm. You'll notice that there isn't a single TV or electronic device in the cabin. And while I'm all for a digital detox, I don't know if my family could handle never having internet access. How else would one binge watch Love Actually to the point that their husband threatens to leave them? Asking for a friend.
Down the hall are two guest bedrooms for those family members who always visit during the holidays. Even though you beg them (every year) to visit your brother for once, so you can sip champagne in your pajamas like baby Jesus intended his birthday to be celebrated. If all the merry making gets to you, though, Santa's study is available to provide some reprieve from all the "holiday joy" like kids screaming and grandparents pacing the house like lost dogs.
"An impressive writing desk is flanked by the same sewing table Santa used to make the original teddy bear," the folks at Zillow said of the office. There's plenty of shelves as well providing extra storage for Santa's toy prototypes, but to be honest his spread doesn't look that great. We don't see the famous Hatchimal that's sent North America into a frenzy. Maybe Santa is sending "sorry we couldn't get it" notes like these parents. There's no Star Wars merch either, which kids apparently never get sick of. And where are all the iPhones, drones, and virtual reality headsets? Give the kids what they want, St. Nick: all the electronics.