Sara Bareilles Shares Post-Surgery Photos To Help Raise Awareness Of Uterine Fibroids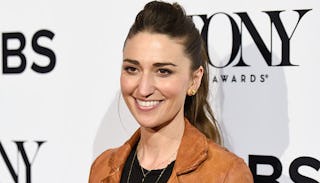 Image via Getty.
About 70% of women will develop uterine fibroids by age 50, study shows
Singer Sara Bareilles is raising awareness about uterine fibroids by sharing photos on Instagram after she had surgery to remove one. "Well, surgery sucks but helpers and families are amazing, nurses are angels, and doctors are wizards," she shared on Instagram.
Fibroids are tumors (almost always benign) that are found in the wall of the uterus. There can be one or several, and they range in size from as small as an apple seed to as big as a grapefruit. Between 80% and 90% of African American women and 70% of white women will develop fibroids by age 50, according to the National Institutes of Health. Not all women who have them experience symptoms, but some ladies have extreme pain and heavy bleeding during their periods.
Despite so many women experiencing them, they're almost never discussed publicly. Bareilles' post are definitely raising awareness of them as fans share her photos and send get well messages. She also took time to share some deeper thoughts on life. "In the silence and solitude of the simple task of my body seeking it's healed state, I have become vigilant about what I am intaking. Physically and metaphorically," she wrote.
"Be careful about how much negativity and noise you heap on your plate. It comes in abundance, but there are other beautiful things at the buffet." Excellent advice to receive at any time but especially during the two-week period of the RNC and DNC that's led many of us to write and share hate-filled messages.
"The slow pace of my recovery has simplified my world in a way, and I am reminded to absolutely acknowledge the chaos of a very strange/surreal time in our country and on our beloved planet, but ALSO remember to come back into the room I'm actually sitting in," the singer shared. "Celebrate what is good about that too. Hope this finds you seeking some joy or handing some out to somebody else. We could all use a slice of that." Truth – bring on the joy!
Bareilles has been home from the hospital recovering and shared the below photo with fans thanking them for their outpouring of support. As far as plans for the rest of her recovery, she wrote, "I will continue to mend and hopefully return with more patience and compassion and knowledge of Game of Thrones."