Sarah Hyland Says She's Done Trying To Hide Her Post-Kidney Transplant Stomach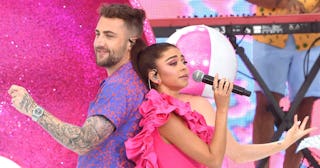 Kevin Winter/Getty
Sarah Hyland shared her new body positive approach to dealing with her post-kidney transplant stomach bump
At just 28 years old, Sarah Hyland has endured about 16 surgeries (including two kidney transplants) to treat both her chronic kidney issues and her endometriosis. Since the kidney transplants, Hyland's stomach is now distended, and in the past, Hyland has admitted to being self-conscious about her stomach bulge and has jokingly referenced needing to wear two pairs of Spanx. However, during her musical debut at the Teen Choice Awards on Sunday, Hyland performed her duet "Met at a Party" with Jordan McGraw, and the multi-hyphenate star ditched the Spanx and let her belly bloat shine.
Hyland shared a photo of her figure during the performance and gave a shoutout to her KUPA, which is her cute body-positive way to refer to her "kidney upper pussy area."
"Thank you to my ever changing self confidence for making the decision to not wear spanx and let my KUPA (kidney upper pussy area) shine like the badass bitch she is," Hyland captioned the empowering post.
Hyland admitted that she wore two pairs of Spanx to an Oscars party back in February, but she didn't immediately say why and was slammed by fans for promoting Spanx despite being thin. She then took to Twitter to explain that she wears the shapewear to help with her post-kidney transplant "bump."
Hyland has long been a body positive warrior for anyone battling chronic illness. The Modern Family star proudly shared her kidney transplant scars on Instagram back in May, which set off an inspiring conversation from other women about embracing their scars.
This woman has endured so much and yet she continues to give us joy, empowerment, and positivity on the daily. We support Hyland — in Spanx or otherwise — and we applaud her body-positive journey towards not giving an F.
This article was originally published on