Sarah Hyland Shuts Down Body Shamers In Honest Post About Her Health
by Cassandra Stone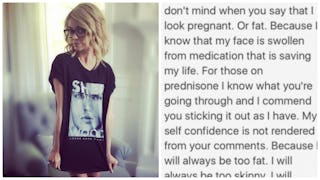 Sarah Hyland responds to body shaming on Instagram
Women are constantly subjected to body scrutiny. It starts when we're almost too young to even be aware of our bodies and it never stops. Whether it's by our peers, our families, our partners, or featured as the next hot take in the magazines we read – the obsession over our appearances and body shapes is endless. Celebrity women, on the other hand, get to experience all of this in the public eye. For famous women, this level of toxicity combined with the already impossible body standards expected of females in Hollywood can often lead to patterns of disordered eating and unhealthy exercising habits.
When Modern Family and Dirty Dancing star Sarah Hyland shared a photo of herself on her Instagram account recently (in an anti-bullying post, no less), she was inundated with thousands of comments on her appearance. Concern trolls came out in full force to admonish her about her weight, the size of her her head in proportion to her body, and offered the old tried-and-true "eat a burger" prescription. While celebrities with social media accounts are surely no stranger to negative comments online, Sarah decided to directly address the negativity.
https://www.instagram.com/p/BUc8Up6FKex/?taken-by=therealsarahhyland&hl=en
"I haven't had the greatest year," she began. "Maybe one day I'll talk about it, but for now I'd like my privacy. I will say that this year brought a lot of changes and with that, physical changes. I have been told I can't work out. Which, for me, is very upsetting. I am an activist for activity (and for eating junk food in bed but it's all about balance, right?). I love to be outdoors. I love to be STRONG. (I'll be using that word a lot.) Strength is everything. Being strong has gotten me where I am. Both mentally and physically. I am not a fan of 'being skinny.' Which many of you have told me that I am too much of."
She was clear in stating that she does not have an eating disorder, and explained that health issues have kept her bedridden for the past few months and put her in a place where she can't control what her body looks like. Back in 2012, Sarah underwent a kidney transplant due to kidney dysplasia. She did not explicitly state what she's going through now, health-wise (because she doesn't have to). But she noted that she's lost muscle mass and is currently not permitted to exercise.
"I don't mind when you say that I look pregnant. Or fat. Because I know that my face is swollen from medication that is saving my life," she writes. "For those on prednisone I know what you're going through and I commend you…"
She decided to address the issue because of young girls who felt she was "promoting anorexia" due to her weight. While she says she was unaffected by such comments, she wanted to express how hard she's working to maintain her weight to "continue to be STRONG and healthy."
While commenting on a woman's physical appearance should be universally accepted as a Thing Not To Do no matter the circumstance, social media offers a platform to literally anyone with an opinion. But that doesn't give us license to offer our uneducated thoughts or abusive commentary on a woman's body. You never know what someone is going through, mentally or physically. Simply put, it's just not OK.
Sarah ended her message with a statement that women everywhere can relate to: "My self confidence is not rendered from your comments. Because I will always be too fat. I will always be too skinny. I will never have enough curves to be called a woman. And I will always be a slut for wearing a push up bra. Love the you you set out to be. Be the best version of yourself. Be healthy."