Sarah Hyland Reveals Surgery Scars On Instagram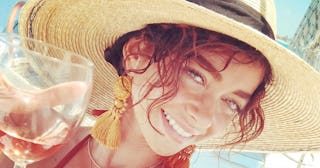 Sarah Hyland via Instagram
Sarah Hyland makes no apologies for showing off her scars after multiple surgeries
In her lifetime, actress Sarah Hyland has undergone 16 surgeries, mostly to treat a condition known as kidney dysplasia. The numerous surgeries (including two kidney transplants) have left the actress with scars on her abdomen, but instead of trying to hide, cover, or eliminate them, Hyland proudly wears her scars and has become something of a body positive icon in the last few years.
Hyland shared a photo on Instagram last week wearing her bespoke Ellen DeGeneres underwear and in the photo, you can see scars tracing her belly. She wrote a silly caption on the photo about wearing underwear outside her jeans, but she punctuated the thought with a resounding #ShowYourScars. Women began to flood the comment section to praise Hyland and swap stories about their own kidney transplant scars.
"I have the same scar from my kidney transplant," wrote MalliaKevin. "I look at it as a badge of life."
"I know how you feel….i have a scar on my stomach from having a kidney removed in 2014," SherryKathleen524 commented. "I used to hate my scars but now theyre part of what made me SO strong!!"
One woman shared how Hyland's photo is helping calm her nerves before her own kidney transplant.
"Seeing your scar brings a smile to my face," Kerlee13 wrote. "It's barely noticeable and to see you're doing so well helps calm my nerves as I have surgery for kidney transplant on this coming Tuesday."
Proving herself quite the body positive warrior, this isn't the first time Hyland has boldly shared her scars.
Although the public knew that Hyland's father gave her a kidney in 2012 when she was 21, she was very opaque for many years about her health crisis. In 2017 she was attacked online for being too thin and faced insults from "eat a burger" to suggestions that she was "promoting anorexia." She later revealed that she was undergoing dialysis at the time, which caused the extreme weight loss, but at the time she hit back at the body shamers and only hinted at her health struggles.
"I haven't had the greatest year," she shared on social media at the time. "Maybe one day I'll talk about it, but for now I'd like my privacy. I will say that this year brought a lot of changes and with that, physical changes."
Later that year, Life & Style magazine ran an article speculating about whether Hyland had gotten plastic surgery, a rumor Hyland shut down faster than you can say "WTF?"
"I've had the worst medical year of my life and to create an entire article surrounding the question of if I've had plastic surgery is the MOST insulting thing," Hyland tweeted. "You have no idea what I have been through."
We're happy that Hyland has opened up about her health, not just because it silences the internet trolls but because her resilience and body positivity is a beacon of hope and love to anyone out there potentially dealing with the same issues.