Sarah Jessica Parker Fires Back At Misogynistic Criticism Of Her Age
by Christina Marfice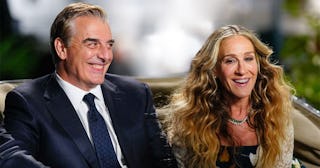 Gotham/GC Images/Getty
Sarah Jessica Parker is responding to some truly vile commentary about her age as Sex and the City prepares to make its return
The Sex and the City revival series, And Just Like That…, is getting closer to its premiere. And let's be honest: There are probably a million valid criticisms we could make that question whether the world really needs a revival of Sex and the City. But none of those criticisms have to do with the age or looks of the actors. Those are not valid. And yet. You know those are happening. Now, star Sarah Jessica Parker is firing back.
"There's so much misogynist chatter in response to us that would never. Happen. About. A. Man," she told Vogue in a new interview. The show's creator, Michael Patrick King, added, "There were a lot of positive reactions, but one bitchy response online was people sharing pictures of the Golden Girls. And I was like, 'Wow, so it's either you're 35, or you're retired and living in Florida. There's a missing chapter here.'"
What makes that criticism all the more ironic is the backlash Parker received when a photo surfaced, showing her gray-haired and with no makeup, on a brunch date with Andy Cohen.
"I'm sitting with Andy Cohen and he has a full head of gray hair, and he's exquisite," she told Vogue. "Why is it okay for him? I don't know what to tell you people! Especially on social media. Everyone has something to say. 'She has too many wrinkles, she doesn't have enough wrinkles.' It almost feels as if people don't want us to be perfectly okay with where we are, as if they almost enjoy us being pained by who we are today, whether we choose to age naturally and not look perfect, or whether you do something if that makes you feel better."
Parker added, "I know what I look like. I have no choice. What am I going to do about it? Stop aging? Disappear?"
Parker isn't the only one of the show's cast who is over comments about her age.
"People are like, 'Why should they come back?' and it really bugs me," Kristin Davis told Vogue. "Are women's lives not interesting now? Nobody ever asks, 'Why would you do this violent remake over and over again?' For me that is so indicative of our reluctance to sit and watch women's lives develop over time."
If you're going to criticize Sex and the City, take aim at the show's historical lack of diversity (which the writers seem to be attempting to correct with the reboot). Take issue with the unrealistic idea that Carrie, a freelancer writer with one column per week, could afford that apartment and those clothes. Criticize the rampant consumerism that fueled the whole show, or the unhealthy relationships that it glorified. But the fact that it stars women who have (gasp!) aged? That's not it.