This Woman Got Engaged And Wrong Number Texted Sarah Michelle Gellar About It
by Christina Marfice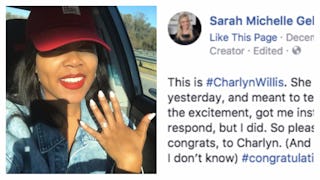 Image via Facebook/Sarah Michelle Gellar
A public shout out from Buffy is the best early wedding gift
On the scale of major life events that you should be pretty freaking excited about, getting engaged is right up there at the top. That's why, when her boyfriend Dennis popped the question, Savannah, Georgia resident Charlyn Willis was pretty stoked to let all her friends and family know the big news.
First up? Her sister. Except Willis, who was clearly too excited to type correctly, sent a photo to a wrong number instead of her sister.
In most cases, this would be a funny, albeit slightly embarrassing gaffe. In this case, it turned out to be the most epic thing that could possibly have happened, because the wrong number Willis accidentally typed belonged to one Sarah Michelle Gellar. That's right; this woman accidentally sent her engagement photo straight to Buffy the Vampire Slayer.
That alone would have been an engagement story to tell everyone forever. But Gellar made it even better. She posted the photo Willis sent showing off the ring to her official Facebook page, along with a shout out to the happy couple.
"This is #CharlynWillis. She got engaged yesterday, and meant to text her sister, but in all the excitement, got me instead," Gellar wrote. "Her sister didn't respond, but I did. So please help me say congrats, to Charlyn. (And her fiancé whose name I don't know) #congratulations."
Gellar's fans definitely turned up for the challenge, flooding the photo's comments with messages of congratulations for Willis and her fiancé. Willis even commented, thanking Gellar for her support, telling her her fiancé's name (since she didn't know it before) and assuring her that she, her hubby Freddie Prinze Jr. and their kids would be getting an invite to the wedding. Guess she's probably planning to text it, since we're assuming they didn't swap addresses after the phone number mix up (though how funny would it be if they were exchanging Christmas cards next?).
Congrats to Willis and her fiancé, both on getting engaged, and having the most epic proposal story of 2017.
This article was originally published on