Sarah Thomas Inspires Women As 1st Female Referee At The Super Bowl
by Christina Marfice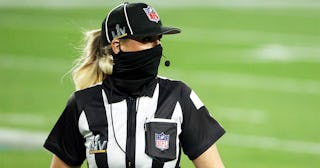 Patrick Smith/Getty
It took until 2021 for the Super Bowl to have a female official referee the game, but fans are still celebrating Sarah Thomas
This has been a big year for breaking the glass ceiling — Kamala Harris became the first woman (and first Black woman and woman of South Asian descent) to hold the office of Vice President in the United States, giving inspiration to women everywhere and making us feel like no job is out of our reach. And on Sunday, we saw even more evidence that that's getting closer to being true. Sarah Thomas worked at the Super Bowl as the first female referee in the history of the big game.
Forget the teams. Thomas was who we all should have been rooting for, from home and from the stands. And honestly, a lot of fans were, judging by social media.
Fans from all over the world celebrated the historic moment and cheered Thomas on as they watched the game. You love to see it.
It's definitely true that Thomas will act as a role model to women and girls all over the world. Being the first woman to accomplish this is no small feat, and we're sure there are many girls who tuned in to the big game who were looking at her and hoping they were seeing their future selves.
The glass-ceiling-shattering moment even caught the attention of Dr. Jill Biden, who was presumably watching Thomas referee the Super Bowl from her new digs at the White House.
Before being the first woman to referee the Super Bowl, Thomas was the first woman to be named a full time official by the NFL six years ago, in 2015. At the time, she noted how hard she had worked to achieve that honor.
"I have been an official for almost 20 years," she told reporters. "This hasn't been an overnight sensation or a year… I am just out doing a job. I know it has meaning to a lot of people, and I am honored for that, but that's not why I set out to do this, to break a gender barrier of any sorts. I just did it because I love officiating."
Troy Vincent, Sr., the NFL's executive vice president of football operations, released a statement when the league announced last month that Thomas would be officiating the Super Bowl.
"Sarah Thomas has made history again as the first female Super Bowl official," he said. "Her elite performance and commitment to excellence has earned her the right to officiate the Super Bowl. Congratulations to Sarah on this well-deserved honor."